Magic New Additions to Harry Potter
Hang on for a minute...we're trying to find some more stories you might like.
Though J.K. Rowling released the final novel in the "Harry Potter" series in 2007, the critically acclaimed author has continued the series by releasing companion books. However, these new additions to the Harry Potter Universe have left many fans with one question: Is the new canon really necessary?
Harry Potter and the Cursed Child is a play that originated in West End of London, but since tickets are  so expensive and the show is located far away from fans across the globe, the script was published and sold worldwide in the summer of last year. The script's release was met with lukewarm reviews, with many sharing their opinions of love, hate, or simply  indifference towards it. Cursed Child received a 3.75 rating out of five overall on Goodreads, with thousands of fans leaving reviews to express how they felt about the new tale of the Golden Trio, Harry, Ron, and Hermione.
Goodreads user "Mary ~Ravager of Tomes~," who rated Cursed Child as one star, expressed, "I can't even pretend like I enjoyed this. The dialogue was terrible, the scenes were awkward, previous characterization was ignored, and the plot was downright weird." Her review summarizes how many others felt–that the book was poorly written and the plot did not fit with the series. Another reviewer, Dana Kenedy, gave the book five out of five stars and left a glowing review. "It was everything I could have hoped for and not at all what I was expecting – seriously, not at all – but it was perfect," Kenedy commented.
Another user, Raeleen Lemay, commented, "I enjoyed this, but it also felt very unnecessary." This seemed to be the general consensus about Cursed Child: fun, but again, not vital to the storyline of the rest of the series.
Saint John Vianney High School freshman Kayleigh Magistre sat down to discuss her thoughts about not just the play, but the Fantastic Beasts branch of the franchise as well. When asked about her thoughts for Cursed Child, Kayleigh said, "I didn't hate Cursed Child like many others." Magistre went on to say, "I could've done without it. If it added more to the series, then I would have been content."
Fantastic Beasts and Where to Find Them, on the other hand,  is a film series that serves as a whimsical, fresh departure from the original Golden Trio. The story follows Newt Scamander as he searches for magical creatures that were let loose in London. Fantastic Beasts was also given mild reviews, but was a massive hit for Harry Potter fans.
Magistre shared her thoughts on this addition to the Harry Potter Universe by saying, "I liked the first one a lot. I like how this new addition to Harry Potter doesn't add to the trio storyline. Just learning more about the Harry Potter Universe alone is cool."
The new canon has brought a variety of reactions, ranging from good to bad.  However, fans across the globe remain loyal to The Boy Who Lived through thick and thin, still love the stories they grew up with, and readily accept the new material they are given. One thing for sure is that no matter where the Harry Potter Universe goes, audiences will follow.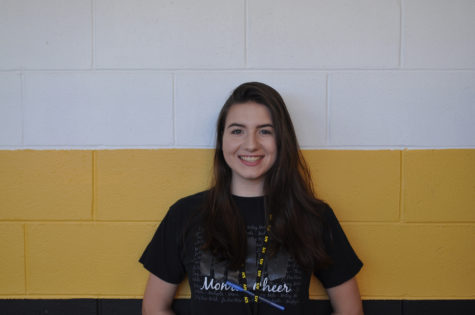 Samantha Magistre, Writer
Hi, I'm Samantha Magistre, and I'm in a senior here at Saint John Vianney High School. When I'm not in class, you can either find me at a meeting for...