The Pros and Cons of Greek Life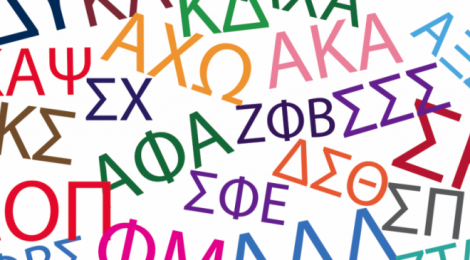 Hang on for a minute...we're trying to find some more stories you might like.
In college, students have the opportunity to undergo experiences for the first time and to engage in groups and communities that were not available to them in high school. One of these communities and experiences is Greek Life. Fraternities—for men—and Sororities—for women—are a major part of colleges and universities. There are a total of 123 "frats" and sororities, but there are thousands of chapters, both nationally and internationally. For many incoming freshmen, or "non-Greeks," Greek Life has a negative connotation. It is associated with hazing, peer pressure, drugs, alcohol, and partying. Yet, members of fraternities and sororities are able to make alumni connections with their Greek brothers and sisters, stay involved in their community through service, and develop specific set social skills through the Greek community. But do the pros of Greek Life outweigh the cons?
In order to join Greek Life, men and women must "rush." Rushing is a type of recruitment process that has multiple rounds and eliminations. Depending on the fraternity/sorority, as well as the location, the rushing process can be a scary and intimidating time. During the process, recruits try to sell themselves to members of the house. During each round, current members of the house cast votes to determine which recruits will eventually become members. During the rush process, recruits go through a series of hazing.
Hazing is one of the many negative connotations associated with Greek Life. However, there is no myth about it. Hazing has become a serious issue with Greek Life. Hazing in sororities and fraternities can include alcohol consumption, sexual acts, sleep-deprivation, and humiliation. However, if recruits cannot make it through the process, they will not receive a bid to become a member. Hazing stories are found all over the news because sometimes it can go "too far." For example, a common hazing practice amongst sororities is the Washing Machine Haze. Pledges sit on an active washing machine, then whichever part of their body jiggles is circled with a permanent marker. If pledges do not lose the circled weight, they do not receive a bid. This haze is diminishing to a woman's body and teaches that women have to look a certain way to be accepted. Universities have had to take the time to administer the rushing process to make sure recruits were safe. There have been multiple accounts of deaths during hazing, making it a negative part of Greek Life.
Another con to Greek Life is the peer pressure accompanied with alcohol and drugs. According to an article on thebestschools.org, 82% of hazing-related deaths are related to binge drinking. Some chapters force alcohol on new members and they have no choice but to comply. New members and pledges also want to impress other members and are willing to go to extremes to make an impression. Members of Greek Life face peer pressure to drink and experiment with drugs in order to fit in. Also, in many Greek-affiliated houses, there is no resident assistant to supervise. With the lack of authority, members are free to abuse drugs and alcohol without any repercussions.
While it may seem like near death experiences and peer pressure would outweigh any positives associated with Greek Life, the pros of joining a fraternity or sorority stretch farther than what happens for four years in college. Unlike a hazing ritual that lasts for a couple weeks, the after effects of being in Greek Life can last a lifetime due to networking. Members make connections with other members of different fraternities on campus and members of the same sorority but different chapter (different university), and with graduated brothers/sisters to increase their chances of getting an internship, job, or even just a recommendation.
Members of Greek Life are also extremely involved in their own community and the university's community. Chapters participate in fundraising, community service projects, and service events. Most chapters even have a specific member who runs and coordinates community service. Max Cummings, a junior at the University of Delaware and vice president of UD's Lambda Chi Alpha chapter, spoke about his fraternity's involvement in the community. "Greek organizations are way more than just partying. At the University of Delaware, greek life raises a huger percent of the money for UDance (a fundraiser dedicated to raising awareness for childhood cancer); and, we host philanthropy events and community service events all the time. The community that is built from being a part of greek life is incomparable. We are all built upon the same values and principles, and our organizations all want to do better for the world and for ourselves."
Greek Life gives men and women the experiences, connections, and tools to develop a set of social skills that can make them highly regarded in the professional world. For example, the first social fraternity was founded in 1825. Since then, every United States President and Vice President—except for two in each office—have been members of a fraternity. Since 1910, 40 out of 47 U.S. Supreme Court Justices were members of a fraternity. It is evident that Greek Life leaves an influential mark on the social skills of individuals since some of the most important people in the nation are alumni. The structure of Greek Life requires members to learn skills such as leadership, time management, and teamwork. Greek Life also teaches members that behavior has an impact on reputation.
Stephanie Palmer, the president of the University of Delaware's Alpha Delta Phi chapter, spoke about the skills she has acquired and honed through greek life. "In Alpha Delta Phi, whether a woman is a general member, chair position, or officer, being a part of our organization demands an ability to manage our time efficiently. Between chapter meetings, sisterhood events, philanthropy events, and engaging with the campus community, our sisters learn to allocate time to different responsibilities, while learning and engaging in their classes to an extent which earns us the highest GPA on campus." Palmer also noted that one of the benefits of being a member of a community is the influence of other members. "Not only has my sorority given me a chance to gain hard skills, it's also given me a chance to develop personally as well as in relationships. Our chapter is a sisterhood of 190+ women, all of whom have taught me something valuable in their own way. So not only have I been empowered by the different knowledge, skill, and character of the women I'm surrounded by, I have also been empowered by the women who have acknowledged and appreciated their own unique traits and talents."
All in all, it's a personal decision if the positives of Greek Life outweigh the negatives, or possibly that the two just balance each other out. Regardless, it's important to note that the Greek Life is not for everyone, similar to how sports are just not for everyone. Greek Life simply provides a community, organization, and a legacy for students to be a part of while in college. However, members will argue that Greek Life stays with its members forever. Palmer believes, "ADPi is not just for four years; it's for a lifetime. Whether that's said in explanation of the continuous support and encouragement of sisterhood, or it's to highlight how our collegiate experience will impact us as leaders, professionals, and individuals, it could not be more true. This experience helped me realize who I am in so many ways, and I'm excited for the ways it will continue to teach me, challenge me, and encourage self growth."