Halloween Movie Night DIY
Bridget Kane, Features/Humans of SJV Editor, Writer
November 2, 2017
Hang on for a minute...we're trying to find some more stories you might like.
It is officially that time of year again! The leaves are beginning to fall, the Jack O' Lanterns are starting to appear, and candy is starting to disappear– it's Halloween! Who can resist embracing the spooky feeling in the air as one of America's favorite holidays approaches? In my family, we have a tradition: After we have finished trick-or-treating and sorting out the good candy from the bad, we all sit down and watch our favorite Halloween movies. Some are funny, while others are terrifying. Well, if you're having an epic Halloween movie marathon, or just chilling out after a successful day of treating-or-treating, these movies will definitely make you feel the Halloween spirit.
The first movie that is a must-watch this Halloween is Tim Burton's The Nightmare Before Christmas, my personal favorite. Originally a poem, Tim Burton's amazing creatures bring the spirit of Halloween to life! The film is centered around the pumpkin king of Halloweentown, Jack Skellington, who has become bored of the spooky holiday, considering Halloween is every single day for the characters. After he stumbles upon Christmastown, he is amazed and struck with an idea. Why not bring Christmas to Halloweentown? This light-hearted movie is perfect for anyone, and can be watched during Halloween or Christmas! The Nightmare Before Christmas has made it's way into my heart due to it's clever plot, lovable characters, and the imaginative works of Tim Burton. If you haven't already, I highly recommend watching this movie during this spooky holiday season.
Some people love Halloween because of the delicious candy, while others love it because of the scares. If you are a person who loves horror movies, then I have the perfect movie for you: The Shining. These days, Stephen King is getting praised for his recent remake, It, but this Halloween, why not watch one of his classics? The Shining is about an author, Jack Torrance, who is suffering from writer's block. To clear his head, he, his wife Wendy, and his young son, Danny, become winter caretakers of the isolated Overlook Hotel, located in Colorado. While Jack's writing seems to go nowhere, Danny is constantly plagued by psychic visions, more than usually, considering he suffered from them before they went to the Overlook. The hotel's darkest secrets soon begin to unravel on their new caretaker. The movie is a bit long, totaling a little over two and a half hours, but it will keep you on your seat and make you sleep with one eye open. This movie is for any fan of King's novels or movies, because it is one of his first works, but also one of his best.
If you're not someone who is a big fan of horror and is looking for a movie that is more lighthearted, Hocus Pocus by Kenny Ortega is the perfect movie for you. After moving to Salem, Massachusetts, the town of the infamous Salem Witch Trials, Max Dennison, stumbles upon an abandoned house with his sister, Dani, and their new friend, Allison. After Allison tells the two siblings that the house is haunted, Max dismisses the story as his new friend just being superstitious, and continues to explore the house. However, he accidentally frees three witches who used to live in the house, and they begin to seek out immortality. With the help of a magic cat, the Dennisons and Allison need to get the Sanderson sisters' spellbook in order to stop them. Filled with countless laughs, it is the perfect movie for anyone who doesn't particularly like scares, or for anyone just looking to laugh this Halloween season.
Now that you have your awesome movie playlist, you're going to need some snacks, and I have some simple recipes that will make you scream with joy. I call this snack "Spooktacular Popcorn". First, you must prepare some popcorn. I recommend pre-made kettle corn since it will go well with this sweet dish, but it is up to you! After you fill a large bowl with the popcorn of your choice, pick out your favorite Halloween chocolate. Break the chocolate up into small pieces, spreading it all over the popcorn. The next step is to melt the chocolate, and you can do this easily by putting your snack in the microwave for about 1 minute, or until the chocolate is fully melted. Be careful when you take it out– it will be hot! My favorite way to finish this monster snack is to crush up Halloween pretzels and sprinkle them on top, but you can add whatever you want!
The main point of Halloween is to have fun, so please stay safe this Halloween. Happy Halloween, everyone!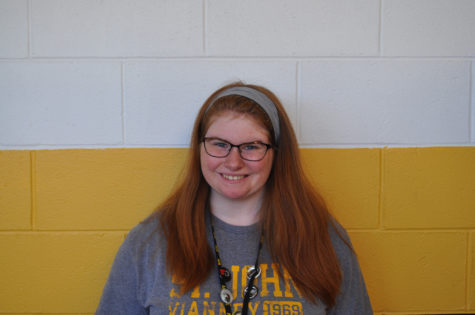 Bridget Kane, Managing Editor and Features and Humans of SJV Editor and Writer
Hi! My name is Bridget Kane and I am a senior at Saint John Vianney High School. This is my third year taking journalism, my second year being an editor,...