Who Will Take Home the Heisman Trophy?
Hang on for a minute...we're trying to find some more stories you might like.
Every college football season has various awards, and perhaps the most coveted award is the Heisman Trophy. The Heisman Trophy is awarded to the best overall player throughout the season and has helped their team the most. Each year, there are multiple candidates who people vote on to win the award. So far, the players this season who are in the Heisman race are Lamar Jackson from the Louisville Cardinals, Jabril Peppers from Michigan, and Deshaun Watson who plays for Clemson.
One of the early favorites this year was a quarterback from Louisville named Lamar Jackson, an exciting player who makes big plays each game. Jackson has become a favorite to win the award because he can not only pass the ball, but he is also one of the best runners in the country. He is averaging just over 258 passing yards a game, along with an average of 6.6 yards per carry, totaling 1538 rushing yards for the season. Jackson has thrown for 30 touchdowns in addition to a completion percentage of 56%. Recently, Jackson and his team have been playing sub-par, causing his odds to win the trophy to plummet as the season progresses. Despite the drop in productivity, Jackson's start to the season will most likely keep him in the running.
Another popular player this season is Jabril Peppers, who plays both defense and offense, making him a unique player. Peppers' ability to play on both sides of the ball makes him stand out to voters, giving him an advantage for his odds to win. Some can argue that Peppers is more valuable to his team than other candidates due to the fact that he plays multiple positions.. This year, Peppers has 46 tackles, including 13 for a loss of yards, three sacks, and one interception against Michigan's rival, Ohio State.
Although he hasn't played as much on offense, Peppers has still been impressive, averaging 6.2 rushing yards with three touchdowns. Even when he doesn't touch the ball, he still brings energy to his teammates, helping them play better. Another reason why Peppers is such an important player to his team is because he is an excellent player on special teams, specifically on punt and kick returns. This season, he is averaging over 14 yards for every punt return with a touchdown and 26 yards for every kick return.
A returning favorite from last year is quarterback Deshuan Watson from Clemson. Watson was a finalist last year, making himself known as a consistent player for his team. So far this season, Watson is averaging just over 300 passing yards a game in addition to 37 rushing yards a game. He has over 4,000 yards in total throughout 12 games. Watson has passed for 34 touchdowns while running for only four less than last year's record. Clemson is a "Top Five" ranked team in college football, helping Watson's case to win the award.
The 2016 college football season is coming to an end and all eyes are on the best players, looking to see who will win this highly anticipated award.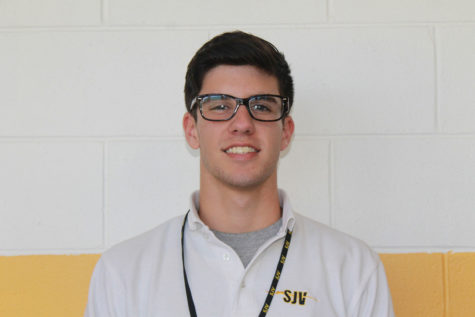 Paul Coburn, Sports Editor, Writer
Hi, my name is Paul Coburn and I am a senior at Saint John Vianney High School. This is my second year writing for Lancer's Point and I am excited to...