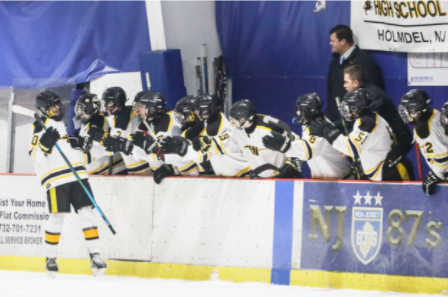 The puck dropped, and the game was in motion. The first period was back and forth on the ice. From blue line to blue line.
With 8:28 left in the first, Lancers' Junior Nick Viola got the first penalty of the game and received a two-minute minor penalty for roughing. Shortly following, Souths' Ryan Nicholson got the second penalty with 4:33 left in the period. A two-minute minor was called against him for hooking.
At the end of the period, SJV led the shots 12-10. The score going into the second was 0-0. It was anyone's game as both sides were equally as aggressive.
The second period was off to a slow start, with yet again, equal chances on both sides of the ice. With both goalies making great saves it was difficult to score.
With 4:22 left in the period, Viola received a two-minute minor for hooking. With an unnecessary call from the refs – Viola was not happy when he skated to the penalty box.
With Viola still in the box for another minute – SJV's Patrick Paines took the puck down the right side of the ice by his team's bench. He crossed South's blue line and shot the puck top left corner. The puck went straight over their goalie's shoulder and into the back of the net. With 3:28 still left, SJV had taken the lead.
In hockey, if you are in the penalty box and the opposing team scores, you are allowed to come out for the game to be fair. However, if you are on the team that scores, you have to stay in – and that's what Viola had to do.
SJV was leading at the end of the period with a score of 1-0. But, South had scored more shots that period with 5-9.
The third period started with two penalties with 14:13 left. SJV's Jack Allen had been called for a two-minute minor for roughing, along with South's Luke Rahrmann.
With 10:49 left in the game, Rahrmann gets another penalty for roughing. Resulting with him sitting out another two minutes.
Shortly after, Souths' Noah Schatman, passes the puck up to senior, Aiden Cavendish. Cavendish takes the puck up, and scores with 9:51 left in the game to tie it 1-1.
With two minutes left in the game, Souths' Luke Pennington, gets another minor penalty for roughing with 2:57 left. And with 22.1 left, Pennington gets another roughing call to sit in the box the remainder of the game.
The game ended and the final score was a tie 1-1, between No. 10 SJV, and No. 15 in the state,  Middletown South. Making SJV's record 2-0-1, and South's 3-0-1.