The Problem with Mallory Dodge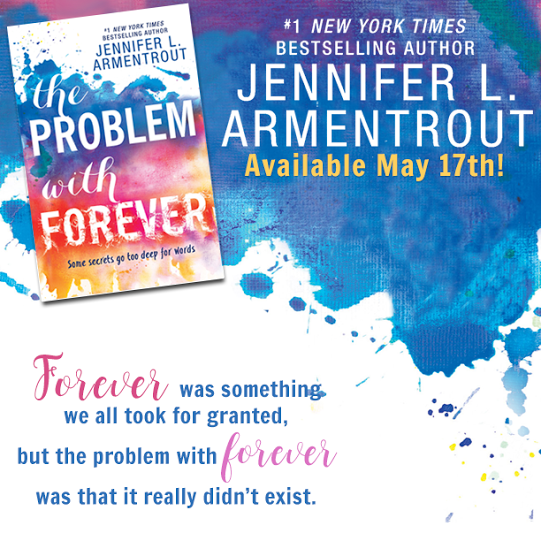 It turns out there really isn't anything wrong with forever, as long as you're willing to fight for it.  Written by #1 New York Times Bestselling Author of The Lux and Covenant Series' Jennifer L. Armentrout brings to life one of her first young adult novels and hopefully not her last. Jennifer L. Armentrout's heartfelt novel, "The Problem with Forever" follows the lives of teenagers with a whole new relatable point of view. A must read for those of any demographic as it represents a multitude of social classes and divisions.
Armentrout's fresh novel points out tough societal issues with a focus on the positive side of growing up, despite all of the chaos. The bright light of "The Problem with Forever" focuses solely on the premise of friendship, human connection, love of all kinds and the problems that come with it.
"The Problem with Forever" follows the life of Mallory Dodge, a 17-year-old girl with a troubled and reserved past. A survivor of the foster care system in Baltimore, Maryland, Mallory faced years of therapy, recovery and homeschooling. Now, a senior in high school, Mallory enters the world of public school, a diverse and interesting animal all in itself. But there is one small problem. She is as quiet as a mouse. Mallory has trouble making one sentence let alone having a full out conversation with someone.
As she navigates this new world of social classes and demographics, she reunites with an old friend from her past, Rider Stark. As Rider re-enters her life, Mallory is faced to make decisions every teenager in high school is forced to make and then some. New friends, new enemies and a bunch of speech class later, we see how life and growing up has changed Mallory and her friends.
Armentrout's fantastic voice and style speaks volumes as the characters ooze out teenage angst and true emotion. A storyline that is more real than fantasy allows readers to get an inside look into the lives of the modern day teenager. A look into the average life of a high school senior with references to recent movies and common applications such as "YouTube" or "Pitch Perfect" allows for young adult readers to immerse themselves into the novel. The characters in this novel seem so real that you can't help but relate to their ever present personalities.
Mallory, for example, exhibits a light hearted wittiness as well as a charismatic personality even though she only speaks a couple of times during the novel. Armentrout displays pure talent as her research and dynamic characters shine through her marvelous words and become more like an old friend rather than a character in a story. Even though these characters had a one-time showing in this singular novel they have the potential for a series or a sequel as fans of the book are already craving more.
"The Problem with Forever" brings up real life issues and dilemmas that the everyday teens of today are faced with at times. Whether that be depression, social anxiety, a rough past or a disillusioned future these characters open up a conversation that might have never been discussed but should be brought to light. This book brings up many of themes in the foreground as well as the background but one fundamental truth it possesses is the delicacy of life. No matter how hard the obstacle or difficult the situation, life is a thing that should be cherished and protected.
As this book brings up deep and at times complex emotions I would recommend this book for a mature audience possibly from the ages of 14-18 also known as "high school years". This book should be read as well by those of an older age as it brings up topics which can be seen in adult life as well. One of the first novels with   All and all, this book was an astounding accomplishment by Armentrout and proves that the best stories don't exactly have to be full of fantasy.