George Clooney Gets Married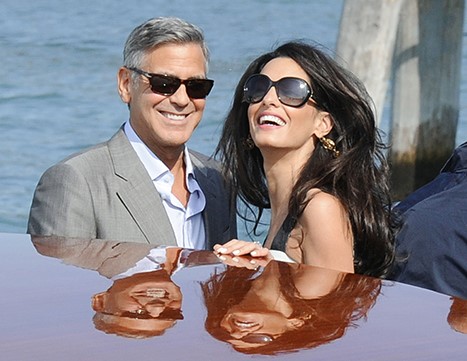 It's official. George Clooney married Amal Alamuddin this past weekend on Saturday, Sept. 27, in Venice, Italy!
Clooney recently revealed that he and Alamuddin first met in Italy. The couple has already been around the world together, with destinations including Tanzania and Mexico.
On April 23, they were seen at L.A. restaurant, Craig's, with Alamuddin wearing an engagement ring.
While at a charity benefit in Tuscany on Sept. 7, Clooney stated that the wedding would be held in Venice. According to People.com, he said, "I would just like to say to my bride-to-be, Amal, that I love you very much, and I can't wait to be your husband."
Wedding guests included John Krasinski, Emily Blunt, Cindy Crawford, Matt Damon, Anna Wintour of Vogue, Bono, Bill Murray, Clooney's parents, Miguel Ferrer, and Grant Heslov. The guests stayed at the Cipriani Hotel.
On Friday, Sept. 26, Clooney and Alamuddin celebrated with their guests at the Cipriani Hotel. Afterwards, the couple enjoyed separate parties.
Saturday, the couple finally said, "I do," with all of the guests and family members escorted to the ceremony by boat. As the boats passed by, crowds cheered. The small and intimate ceremony was held at the Aman Canal Grande Luxury Resort.
Alamuddin wore a cream lace Oscar de la Renta gown. As reported by TheGuardian.com, it was a custom-made wedding dress with modest off-the-shoulder straps, an immense train, and Victorian-style veil. With Anna Wintour present during the wedding weekend, Alamuddin was sure to have the finest couture styles to wear before and after the ceremony.
But Alamuddin's gown is not the only attire worth mentioning. Clooney wore a custom-made Giorgio Armani tuxedo paired with a white shirt, black bow tie, and oxfords in smooth, brushed black leather.
Following the wedding ceremony, a dinner reception featuring lemon risotto with lobster, lemon ricotta agnolotti with arugula pesto, and Chianina beef with porcini mushrooms was served.
The Sunday following the ceremony, the newlyweds stepped out of their hotel for the first time as husband and wife. After a weekend filled with exciting and extravagant wedding activities, the last thing the couple had to do was make their union official under Italian law. The following day, they headed to the Ca'Farsetti Palace in northern Venice to make their marriage official. After only about 10 minutes, the couple emerged once again as an officially married couple.