The Problem with Prom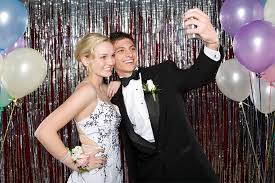 Kelly Garcia, School News/Art, Music, Books Editor, Writer
January 16, 2018
Prom season is quickly approaching, and many girls are beginning to buy their dresses in preparation for the special night. It seems that each year, prom becomes a bigger deal than it ever was. Nowadays, people are spending as much on prom dresses as some would on a wedding dress, and "promposals" are bigger than some wedding proposals are!
Prom is short for the word "promenade," the formal walk or drive meant to be seen by others in public. In the 1800s, prom was a simple dance with boys and girls in the graduating class of a university. Prom was originally meant to teach young adults social etiquette and manners. Eventually, prom was pushed for younger and younger ages, and by the year 1940, prom was held in the gymnasium of high schools. In the 1950s, high schools began holding prom in country clubs or hotels, and President Kennedy even rescheduled a fundraiser at the Beverly Hilton to allow a high school to have their prom there instead. In 1975, prom was so important that Susan Ford, President Ford's daughter, hosted her senior prom in the East Room of the White House. To this day, she is the only person to ever have held a prom there.
Before the 2000s, wearing a designer dress to prom was not as big of a deal as it is now. In the 20th century, it was common for girls to spend less than 100 dollars on their dress, hair, makeup, shoes, and nails combined. Many girls did their hair and makeup themselves, and they bought their dresses from department stores like Macy's or Kohl's. Now, in the 21st century, girls spend 300 dollars or more on prom dresses alone. At Saint John Vianney High School, 7 out of 10 girls spent over 400 dollars on their prom dresses in 2017. One senior in particular at Saint John Vianney High School spent 550 dollars on her prom dress. She said, "after 7 stores and a lot of frustration, this was the only store that had the exact dress I wanted." Besides this, girls spend around 300 dollars on hair, makeup, shoes, spray tans, and nails for this one special night.
Girls are not the only ones who spend hundreds of dollars on prom night. Boys usually rent a tux for prom, costing them around 200 dollars. Sometimes, the boy will even pay for his date's prom ticket, which often ranges from 50 to 90 dollars each today. Many teenagers also take a limo to prom, which costs around 50 dollars per person.
Not shocked yet?
Some boys spend over 100 dollars on a "promposal" for their date, which basically is them asking their date to prom in a huge way, instead of simply just asking them to go to prom with them. From buying huge teddy bears to brand name sneakers all the way to expensive jewelry, boys come up with a cute slogan to put on a poster and ask their date to go to prom with them.
Prom is becoming more and more extravagant as the years go by, and it is no secret that hundreds of dollars are being spent by all.