War Crimes in Ukraine
*CW// violence and murder
According to survivors of the March 2022 Bucha Massacre during the Russo-Ukrainian War, Russians shot bullets in all directions, firing at any movement in the streets or windows and anything warm they saw in their heat visors. The Russian invaders shot any Ukrainians who resisted their presence, interrogation, or looting. Even any suspicious-looking Ukrainian civilians received Russian bullets. Ukrainian forces and journalists entered Bucha on March 31 and what they saw was horrifying. 
Bodies of men, women, and children lay on the streets, decomposing under the warm sun. Some sat in vehicles overwhelmed by the bullets and fire from which they tried to escape. Several bodies were found inside apartments and houses that were damaged by shells and explosions. Some had their hands tied or showed traces of torture, while others were found in mass graves, barely covered with soil and garbage. Bucha's mayor, Anatoly Fedoruk, told the Agence France-Presse (AFP) news agency that "In Bucha, we have already buried 280 people in mass graves."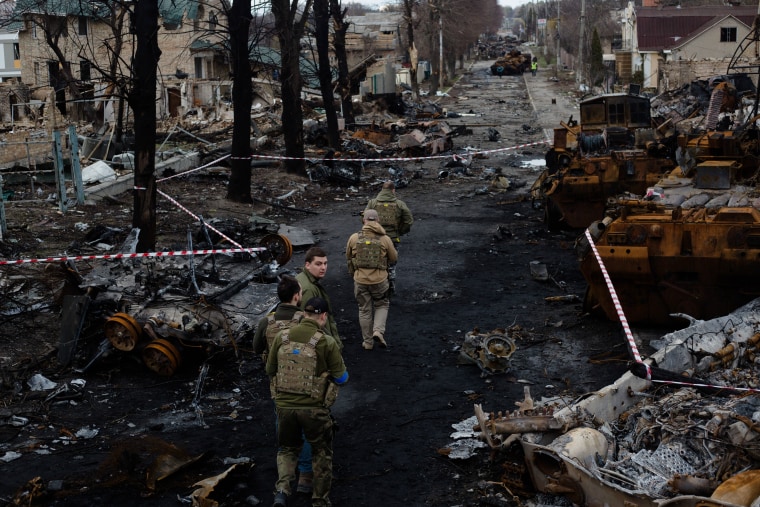 Powerful leaders around the world have expressed outrage over the gruesome war crimes in this town on the outskirts of Kyiv, such as Chancellor Olaf Scholz in Berlin, President Emmanuel Macron in Paris, Prime Minister Boris Johnson in London, and President Joe Biden in Washington. On April 5, Ukrainian President Volodymyr Zelenskyy addressed the United Nations Security Council and discovered none of these leaders have any intention of directly intervening and ending Russian soldiers' war crimes, according to Politico. 
Meanwhile, at the U.N., Russian Ambassador Vassily Nebenzia denied Russian forces committed war crimes. In a fragmented speech, Nebenzia attacked the so-called Ukrainian Nazis and blamed the civilian killings on "criminally staged events" in which the Ukrainians "were killed by their own radicals," instead of the invading Russian troops. 
Zelenskyy accused Russia of wreaking havoc around the globe, violating state borders, igniting wars, killing civilians, promoting corruption, and spreading disinformation. Despite his many accusations and strong words against Russia, Ukraine's U.S. and EU allies did not display any signs of taking action. At the White House, Biden press secretary Jen Psaki acknowledged Zelenskyy's concerns and frustrations, yet regarding Russia's membership to the U.N. Security Council, she added: "We don't see that changing." 
The West's failure to defend Ukraine against heinous Russian war crimes prompted the Ukrainian ambassador to the U.N., Sergiy Kyslytsya, to tell reporters, "The current security architecture as it stands is not capable to guarantee and provide security." An air of uncertainty surrounds the power of the West, unwilling to cease war crimes committed by a rival world power such as Russia.