Hocus Pocus 2!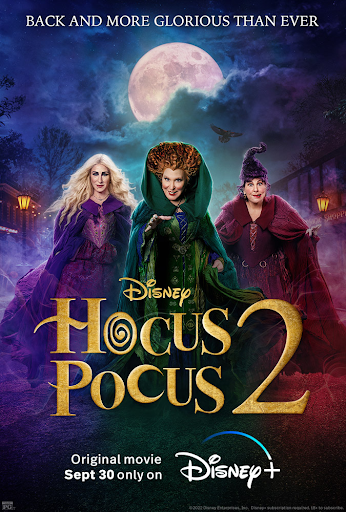 The Halloween season is quickly approaching, and Disney recently released a sequel to a classic, fan favorite, Hocus Pocus. Hocus Pocus 2 was released on September 30 and is now streaming on the Disney Plus platform.
Hocus Pocus 2 continues the first movie's plot with a present-day twist. The movie takes place in  Salem, Massachusetts, with two teenage girls, Becca and Izzy. Becca and Izzy both have a fascination with witchcraft. It is Halloween night, and they are performing their annual Halloween ritual when they accidentally bring the Sanderson sisters back to life.
The girls try to prevent the Sanderson sisters from kidnapping Salem's mayor and prevent a spell from being cast to make amends with the mayor's daughter causing them to become powerful. This sequel follows a similar approach to the first movie by following a similar comedic outline. Make sure to add this movie to your watchlist this Halloween season!