Dedicated Until the End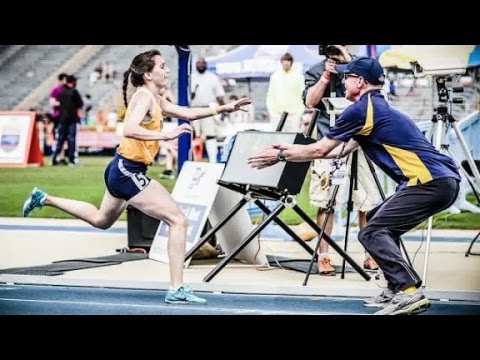 Thinking of pushing through and actually pushing through are two things that go hand in hand. You have to do one before you do the other. Athletes, in particular, have to keep this in mind if they plan on accomplishing goals in their athletic career. In truth, it can be used for non-athletes too.
Kayla Montgomery, an 18-year-old track runner from Winston-Salem, North Carolina has learned to pursue this idea. Three years ago she was diagnosed with multiple sclerosis. Despite this downfall, she has become one of the fastest young distance runners in the country. With this accomplishment also comes unbearable pain even with the numbness that she suffers.
At the start of every race, Montgomery is able to have feeling in her legs. By the end of the race her legs are numb. As she crosses the finish line she falls into her coach's arms and he pulls her away, immediately icing her legs. Once she is all iced up she receives feeling in her legs again. When the numbness in her legs come she cannot stop, and stopping causes her to lose complete control.
It all started when she fell during a soccer game and a tingling sensation began in her feet rising all the way up. After that day the doctor visits followed and in 2010 she was diagnosed with multiple sclerosis. Multiple sclerosis is a disease that disrupts the nerve signals going to her brain and is what causes the numbness in her legs. This diagnosis forced her to give up soccer and turn to running since it was a non-contact sport.
"'When she was diagnosed, she said to me, 'Coach, I don't know how much time I have left, so I want to run fast—don't hold back. That's when I said, 'Wow, who are you?'" Montgomery's coach, Patrick Cromwell, said to The New York Times.
For someone who started out as one of the weaker runners, she really has not held back and neither has her coach. In October of 2013, she won the North Carolina state title in the 3200 meter with a time of 10 minutes 43 seconds. With a time like that, she is ranked 21st in the entire country. For an elite athlete with multiple sclerosis and no cure for it, she is succeeding greatly.
The numbness in her legs can be considered an advantage, but an advantage that no one wants to have. The pain that most endure, she does not feel because her legs go completely numb. "It's just a strange feeling, or lack thereof, to know that your legs are moving but not be able to tell how fast or tell where or, I guess, anything you don't know what's going on. You just know it's happening," Montgomery said in her feature with ESPN. "Although I can't feel my legs I can't determine how fast I'm going, so that's a major setback in running. You have to be able to pace yourself."
Her final race of her high school career was at the outdoor track championships in this past May. She fell, but was still able to catch up to the front and become the 3200 meter run champion. Montgomery's coach stated about Montgomery in the ESPN interview, "To beat it, to outrun it, to know you got every movement out of those legs while you still can, that's why she's running."
She is currently attending Lipscomb University in Tennessee on a cross country scholarship. The ESPN feature on Montgomery's life, "Catching Kayla," depicts the life of a truly dedicated athlete that is running until the very end. Kayla Montgomery is the epitome of dedication and living every moment of your life while it is still here.