More Than A Protest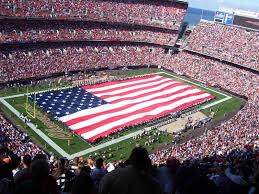 San Francisco 49ers quarterback Colin Kaepernick has made himself known after refusing to stand for the national anthem in an attempt to bring attention to the mistreatment of African Americans in the United States. What was expected to be a harmless protest has quickly turned into a nation-wide controversy that is currently being discussed.
Although his intentions were to try and help the situation, many think that Kaepernick has only added more tension on the subject of racism. According to the quarterback, his initial intentions were to bring attention to the cause he was standing for. Kaepernick acknowledged the fact that this issue is bigger than just kneeling for the national anthem, stating, "To me, this is bigger than football and it would be selfish on my part to look the other way. There are bodies in the street and people getting paid leave and getting away with murder." Kaepernick is using his platform as a popular athlete to try to help the issue of racism and violence in America.
As expected, many people reacted to Kaepernick's actions, such as other players, fans, retired war veterans, and even President Obama. One of Kaepernick's teammates, NaVorro Bowman touched on the subject, saying, "Things like this break teams apart and we can't let that happen." Even though some teammates disagree with Colin and his decision, they still were mature when handling the situation. "Colin chose to do this. We know Colin and we support him. We don't think he is a bad teammate because he decided to voice his opinion," Bowman said.
However, not everyone was respectful of Kaepernick's actions, specifically the fans and citizens of America. Kaepernick explained that he has been receiving death threats from multiple sources, especially from social media. Whether it is through Twitter or Instagram, Kaepernick is causing outrage throughout the internet with many posts and tweets. The debate has escalated so much that even presidential candidate Donald Trump provided his input saying Kaepernick should leave the country.
Kaepernick has handled the threats and negative reaction with great admiration but he knows the consequences he could potentially deal with, saying "Granted, it's not how I want it to happen, but that's the realization of what could happen. I knew there were other things that came along with this when I first stood up and spoke about it. It's not something I haven't thought about."
Whether it be negative or positive the situation has made an impact on many players in the NFL and in other sports. Multiple players around the league have decided to join Kaepernick in protest such as Arian Foster, a running back for the Miami Dolphins in addition to Megan Rapinoe, a player for the U.S women's soccer team along with various athletes around the country, proving that Kaepernick is not alone.