A Broken Town Comes Together to Fight Bullying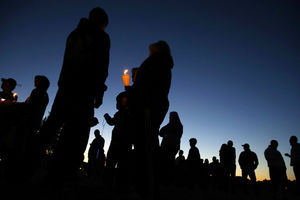 On Sunday October 12, hundreds gathered in Kennedy Park in Sayreville, New Jersey to rally against bullying. Resident Jennifer Herrick said "This is what Sayreville is about."
The rally was organized together after the scandal surrounding the infamous football team regarding hazing and bullying the freshman players.
The participants on Sunday night were given blue balloons, candles, stickers, and ribbons to support the cause. A prayer was read, and speeches were delivered by Sayreville officials. "Helping our community is 100 percent of what Sayreville is all about," said Mayor Kennedy O'Brien.
After, the participants walked around the lake in Kennedy Park to symbolize that bullying will not be tolerated, even if it means cancelling a football season.
News reporters and photographers swarmed the park searching for the perfect picture and juiciest story. But the bottom line comes down to, Sayreville will not tolerate bullying and will come together to support one another.