Tesla's Big Announcements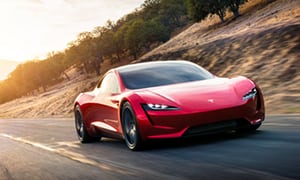 On Nov. 16, 2017, Tesla unveiled their new truck and sports car. The car company has never made a truck before, making this release even more notable. Elon Musk, the CEO of Tesla, announced that the new vehicle could go from zero to sixty miles per hour in five seconds. Additionally, since Tesla's cars run off of batter instead of gasoline, the new truck can travel up to 500 miles with a full charge.
It is no surprise that this new Tesla truck will be very expensive, like the brand's other vehicles. The newly unveiled truck costs a whopping 150,000 dollars for the 300-mile range version, and 180,000 dollars for the 500-mile range version. It is expected to be available to drive in 2019.  
In addition to the newly announced truck, Tesla also unveiled the Roadster, which is their version of a sports car. The range of the Roadster is 620 miles, and its top speed is 250 miles an hour. It can also go from zero to sixty miles per hour in 1.9 seconds, making it the fastest speed compared to any other car on the market. Furthermore, the Roadster can travel a quarter of a mile in 8.9 seconds.  
According to Musk, "You'll be able to travel from L.A. to San Francisco – and back – without recharging." The car's price will be 200,000 dollars. Tesla made the Roadster to compete with expensive car brands such as Bugatti, Ferrari, and Lamborghini.  The unveiling of the Roadster was also very unexpected as car fans only expected the truck to be unveiled. The brand new Roadster is expected to be available to drive by 2020.
With all of the these new products being unveiled, it is clear that Tesla is uncomparable with the other cars on the road.