Aesthetics: Your Guide To Understanding Categorical Fashion Trends
     Instead of a pair of boots or a hat being trendy or cute, the fashion world has expanded to include the theming of an entire ensemble, maybe even an entire wardrobe if you're dedicated enough. Categorical fashion is divided into something better known as "aesthetics." These aesthetics can be a reflection of your personality or just a clothing style that flatters your outward appearance. 
     Inspired by the Pinterest era of similar grouping, fashion has segregated into trendy themes with hip names. This includes, Cottagecore, Y2K, Dark Academia, Grunge and Normcore. 
     Take this as a personal guide to a happy shopping experience, satisfying the needs of a beginner in fashion configuration. So turn in that quarantine wardrobe of fuzzy socks and ratty hooded sweatshirts for something a little more elevated. 
     Find out which style fits your preferences or go out of your comfort zone and try something entirely different, you never know, you might like what you see in the mirror.
Let's keep it light and start off with cottagecore. Close your eyes and insert yourself into your favorite childhood fairytale. See the evergreen landscape and hear the crunch of leaves between your feet. There's a babbling brook to your left and a scenic grove to your right. Now open your eyes and imagine what it would be like to dress the part.
Cottagecore is mainly made up of pastels, muted shades of primary colors. It's a movement harkening back to agricultural life. It's simple, clean, and made to be harmonious with nature. Grandma-inspired crafts like knitting and weaving are a staple within this aesthetic. Cottagecore is a romanticization of the days where farm fresh eggs were laid in your backyard and clothes were hung on clotheslines. This cozy and homey aesthetic isn't going away any time soon. 
If you're not ready to retire those sweatpants just yet, maybe dressing down with normcore is a better option for you! This aesthetic is all about being laid back and comfy while still looking cohesive. Jerry Seinfeld and Adam Sandler are two staples of normcore. They embody that effortless casual style that's less bouchy and more fluent. This style isn't trend driven or loud, but defined by appearing average. Sometimes all you need is the basics. 
Decade fashion is becoming increasingly popular, but the most prominent of them all is Y2k. Yes, you heard that right. We're bringing back juicy couture, chunky belts, and trucker hats. These tacky-chic staples are now a hit with Gen Z teens, and more of a nostalgic throwback for Millennials. Fueled in part by the sustainable fashion movement, many people are finding "vintage" Y2k pieces and incorporating them with their everyday outfits, thereby reigning in the trend. So jump on the bandwagon and shop sustainably!
The next aesthetic is described
by many as dark academia, its counterpart being light academia. This wardrobe lives within warm, dark neutrals and embodies that of a boarding school scholar. Preppy and conservative, it's leisurewear for study dates in the library or a picnic at th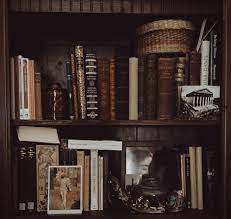 e forest borders. Think Harry Potter or Sherlock as references in this kind of style. With dark academia you are the main character, the mysterious one who broods in quiet corners, surveying the world around you with an analytical gaze. This aesthetic celebrates pretentiousness and includes themes of criminality, danger and mystery.
Last but not least, grunge. This aesthetic birthed from the music scene of the 80's and 90's when bands like Nirvana and Pearl Jam reigned supreme. The fashion staples of this style include mesh, plaid, mixed prints, combat boots, and lots of layers. An edgy hairstyle could also count as an accessory and the cherry on top! It can be argued that grunge began to decline in 1994, after the tragic suicide of Nirvana frontman Kurt Cobain. That being said, it's resumed it's traction with younger generations since physical music outlets like record and cassette players began their budding re-emergence. Grunge, like Y2k, is a thrifting staple. But unlike the bright loud colors and patterns, grunge accessories are usually oversized, neutral in color and pieces made to last on a budget.