Blink-182 in the Studio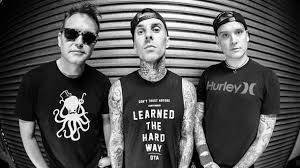 Hang on for a minute...we're trying to find some more stories you might like.
As announced on the radio station KROQ, Travis Barker, the drummer of Blink 182, has officially stated that the band is back in the studio.
After the release of their sixth studio album Neighborhoods in late 2011, not much has happened as they have been on and off of hiatus. In late January 2015, the trio took a blow when singer/guitarist Tom Delonge separated from the group to continue his venture of Angels & Airwaves, a band which he started in 2005.
As the band was scheduled to play on a short comeback tour of sorts they were in a jam. Mark Hoppus (bassist/singer) and Travis Barker (drummer) called in Matt Skiba, the co-founder of the band Alkaline Trio, to fill in Tom's shoes. As the tour progressed the founding members, Travis and Mark began to enjoy their time with Matt. Matt Skiba was once quoted that creating an album with Blink-182 would be "amazing" and It seems like his dream is coming true. Travis Barker recently spoke with the radio station KROQ and confirmed that indeed they are in the studio together.
Mark Hoppus told Billboard.com "We're starting not from square one, it's exciting to think that we're going to move forward. And it's a little scary to think that we're going to move forward and sound a little bit different, but also exciting in the same way."
They haven't narrowed down the song choices or got the album's direction down pat. But Travis told KROQ, "I don't want to reveal too much. I don't know how many songs we're gonna write before we say 'this is the group of 12 songs we're putting on the album.' We have 15-20 songs right now, but I really feel like it's a process."