Amanda Spina
Hang on for a minute...we're trying to find some more stories you might like.
What do you do inside of school, what activities are you involved in?
I do show choir, and choreograph for that. I'm involved with the plays and I'm assistant choreographer for the musical, I am Vice President of the Junior Statesmen of America club. I also just got into National Honors Society so i'm involved with that… Oh! I'm in Cultural Awareness club, I'm the Treasurer of Cultural Awareness club.
What do you do outside of school?
Outside of school I dance and I help with the morning Sunday pre-school at my church.
What's the most memorable moment you've had at SJV?
My most memorable moments would definitely be being involved with the plays, just because you bond with so many people, and you meet so many people that you wouldn't have met otherwise. And its just a great experience going from words on a script to a real experience.
What's your favorite play that you've done at SJV?
*Contemplates* That's a hard one! *Thinking* I really liked "Once on This Island," just because I knew what I was doing and there was a lot of dancing and I'm really comfortable with dancing and its like a high-energy show. So I think it's "Once on This Island."
How long have you been dancing, singing, and being involved with plays?
I was in my first play in fourth grade. And I've been dancing since I can remember, I think I was three when I started. My mom actually signed me up because I ran into a wall and my said I needed to be more coordinated! True story!
Do you have a goal in life, do you aspire to be anything?
I honestly have no clue! I have ideas, but I don't have a set goal I really just want to see where life takes me.
Do you have a dream job? If you could do anything in the entire world, what would you do?
If I could do ANYTHING in the entire world I would be an actress, but I know that's not probable.
What's your dream college?
I don't know where I want to go to school, but I definitely want to be in a city atmosphere with a lot of things going on, and a lot of things to do.
What's your favorite class you've ever taken at SJV?
*Automatically* Last year I took Advanced Theater Production with Mrs. Ryan. There were eight of us in the class and it wasn't really supposed to run but I don't know Mr. Niece did something so it did run, and it was such a great experience. I became great friends with everybody in that class, I learned SO much -not just performing but about lights, and tech things and all that sort of stuff. It was just amazing. I learned about myself- as cheesy as that might sound.
What's the greatest lesson you've ever learned in life?
I think the greatest lesson I've ever learned is everyone is wrong, and everyone embarrasses themselves, and everyone's and idiot so you might as well have fun. Everybody does stupid stuff so you might as well have fun!
Pizza is a circle, so why do you think it comes in a square box?
*Confused look* I think its- you need to let the pizza move a little bit because if it was right around the edges it wouldn't work! It would be easier to carry if it was a circle, you could hold it any way and they're would be no corner jabbing you in the stomach.
If you could tell yourself something five years ago, what would you say?
I would probably say not worry so much, even though I still worry now! But as a kid I worried excessively. So like not to worry, everything's gonna be okay, don't even worry about it, you don't need to have like panic attacks about college when you're 11! Just calm down, relax and enjoy life.
Is there anything you want to add, or a fact about yourself?
*Laughs* It's true! The rumors are true, I wear knee socks under my pants! *Laughing*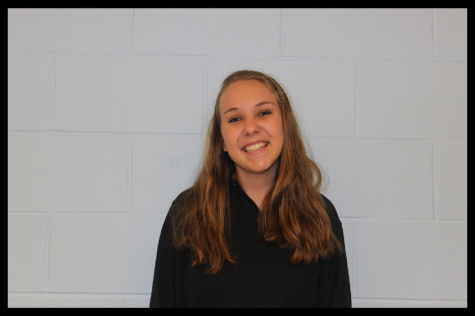 Julia Aleo, Writer/Editor
Hi! My names is Julia Aleo, I'm a Senior here at Saint John Vianney. This is my fourth year writing for our school paper, the Lancer's Point. I'm extremely excited...