Tonya: Off the Ice
Some call it "the whack heard around the world." Some say they can vividly remember the sound of Nancy Kerrigan shouting "Why me?" at the top of her lungs.
To Tonya Harding, these are just a kaleidoscope of memories that left her labeled the most disgraced figure skater of all time.
Though it has been two decades since the incident that rocked the sports world, the frenzy that followed has lingered throughout the years, leading to the creation of its own museum, countless references on TV series, and most recently, the release of the film I, Tonya.
Over the years, most people viewed Nancy Kerrigan as the victim in the situation. However, I, Tonya paints a different picture, one that depicts Tonya (played by Margot Robbie) as a victim of abuse throughout the entirety of her career, and ignorant to the scheming that went into the attack on Kerrigan.
As a child, Tonya Harding had always dreamed of being a professional skater and making it to the Olympics. Though her father left her family, and her mother, who had a revolving door of husbands throughout her life, struggled to support Tonya, she never gave up her dream. In the mid-1980's, Tonya began to climb the ladder of professional figure skating, earning high rankings in U.S. Figure Skating Championships along the way.
Tonya's popularity reached a new height at the 1991 U.S. Championships and World Championships when she became the first American woman to complete a triple axel–a difficult figure skating jump with a forward takeoff–in an international event. She also became the first female skater to ever receive the perfect score of 6.0 at the U.S. Championships. Tonya placed second at this event, behind Kristi Yamaguchi and ahead of Nancy Kerrigan.
Though things seemed nothing less than perfect for Tonya and her career, her life was anything but that when she stepped off the ice.
To put this into perspective, in I, Tonya, Margot Robbie, as Tonya, states, "Nancy gets hit one time and the whole world sh***. For me, it was an all-the-time occurrence."
In the film, viewers see how Tonya's mother, LaVona (played by Allison Janney), pushed her to succeed at figure skating from the time she was toddler, and even into her adult years as a pro-skater. LaVona often abused her daughter for her failures, such as by violently hitting Tonya with a hairbrush, kicking a chair out from underneath her, and even throwing a kitchen knife at her once, landing in her arm. Tonya has insisted that these events occurred over the years, even going as far as to say, "I don't think think that there was more than one day a week, sometimes, that I didn't get beaten."
In real life, LaVona claims that the events of the film that depict her abusing Tonya are untrue. Lavona has rebuked the claims, saying, "I didn't abuse any of my children. Spanked? Yes, spanked. Absolutely, positively you got to show them right from wrong." Tonya's mother has also denied the occurrence of the knife-incident that is shown in the film, stating, "'Why would I throw a steak knife at anybody? She's lied so much she doesn't know what isn't a lie anymore."
Though Tonya distanced herself from her mother as her popularity grew, the abuse continued into her marriage by her husband, Jeff Gillooly (played by Sebastian Stan). The film shows how Gillooly would smash her head against mirrors, leaving shattered glass all over the floor, and at one point, even pointed a gun at her. In I, Tonya, the title character states, "Violence is all I ever knew."
Over the years, Gillooly, like Lavona, has repeatedly denied Tonya's claims of abuse by him, despite the fact that he has been issues multiple restraining orders from Harding.
After the year 1991, Tonya never again successfully performed the triple axel in a competition. As a result, the media pitted her and Kerrigan against each other as competitive rivals, with Kerrigan beginning to grow more popular and successful in competition than Tonya.
Tonya and Kerrigan were complete opposites, to say the least. Though Tonya was praised for having completed the triple axel, her public image paled in comparison to Kerrigan's. The designer outfits on Kerrigan led to many endorsement deals, while Tonya, who made her costumes herself, lacked sponsors. In order to sell magazines and make headlines, the media proclaimed them to be enemies on the ice. Little did the world know of the turmoil that would ensue in the coming years…
Despite the decline of Tonya's success, both her and Kerrigan earned a spot on the United State's Women's Figure Skating team for the 1992 Winter Olympics in France. Tonya, however, earned fourth place, one spot below Kerrigan, who earned a bronze medal.
Tensions grew between both skaters as the Olympic Committee announced that the next Winter Olympics would take place two years sooner in 1994 rather than 1996. It was no secret that it would be a toss-up between Tonya and Kerrigan for who would win big at the Olympics in Lillehammer, Norway. However, on January 6, 1994, everything changed for the two skaters.
On this day, Kerrigan was training at Detroit's Cobo Arena for the U.S. Championships, which were being held the next day and would determine if she would qualify for the upcoming Olympics a month later. As Kerrigan briefly stepped off the ice and went into a back hallway, a masked assailant unexpectedly struck her in the right kneecap with a baton, leading to a bruise and a limp, though many at first assumed it had been broken and would ruin her career. The aftermath was caught on video, capturing Kerrigan laying on the floor surrounded by a crowd, screaming "Why me?"
Despite the fact that Kerrigan made a full recovery and was granted a spot on the Olympic team, the search to uncover who assaulted her continued. The media automatically pointed fingers to Harding and her team for plotting the attack, considering the tight rivalry between the two skaters, though Harding profusely denied involvement. After an FBI investigation ensued, it was uncovered that Harding's husband, Gillooly, and her occasional bodyguard, Shawn Eckhardt were behind the attack. Additionally, the assailant whom they hired, Shane Stant, left a clear trail for the investigators, such as booking hotel rooms under his own name and renting a car.
Between the days of January 11 and 19, 1994, Eckhardt, Gillooly, Stant, and Derreck Smith, who drove the getaway car on the day of the attack, all turned themselves in to the FBI and confessed to being involved in Kerrigan's assault in order to give Harding an advantage over Kerrigan. On the other hand, Harding remained adamant that she had no knowledge of the attack, claiming she was asleep at the time it occurred. "My coach woke me up and told me. I had a practice later on. I was scared to death, being out on that ice because nobody was caught," stated Harding.
In spite of the fact that Harding claimed to have no involvement with the attack, during a press conference at the Multnomah County Athletic Club in Portland on January 27, 1994, Harding admitted to failing to tell authorities about her suspicions of who perpetrated the attack following its occurrence. "I had no part in the planned assault on Nancy Kerrigan. I am responsible, however, for failing to report things I learned about the assault when I returned home from nationals. Despite my mistakes and rough edges, I have done nothing to violate the standards of excellence in sportsmanship that are expected in an Olympic athlete," Harding claimed during the conference.
Despite her claims, Gillooly entered a plea deal on February 1, 1994, in exchange for testifying against Harding. Gillooly, along with his fellow conspirators, ended up receiving a short jail time. Though the U.S. Olympic Committee attempted to disqualify Harding from the games as a result, she was still allowed to compete after threatening to sue.
Kerrigan's assault did not hold the skater back during the 1994 Winter Olympics in Lillehammer, which were watched by many who were interested in seeing her and Harding compete following the attack. For Kerrigan, the Olympics were a success, performing what many considered the best set of her career, and having earned a Silver Medal. Harding, on the other hand, finished in eighth place after failing to land her first jump and being granted a re-do after claiming her lace broke during rehearsal.
In what many considered one of the most heart-wrenching scenes in I, Tonya, viewers witness the real events of the aftermath of the 1994 Olympics when Tonya's skating career officially came to an end. In a courtroom scene, audiences see Harding being placed on a three-year probation, being ordered to serve 500 hours of community service, pay a $160,000 fine, being forced withdraw from the 1994 World Figure Skating Championships, and worst of all, being banned from competitive figure skating for life. Robbie, playing Harding, breaks down during this scene and begs the judge to give her jail time rather than preventing her from doing what she loves. However, the judge declines.
Forced to find a new career amidst being banned from competitive figure skating, Harding briefly chose to become a boxer. After cutting her newfound career short due to problems attributed to her asthma, Harding disappeared from the spotlight–until now.
Since its release, I, Tonya has received critical acclaim. According to online film review website "Rotten Tomatoes," "Led by strong work from Margot Robbie and Alison Janney, I, Tonya finds the humor in its real-life story without losing sight of its more tragic – and emotionally resonant – elements." This film was even nominated for a Golden Globe for Best Motion Picture- Musical or Comedy.
Alison Janney, playing the role of LaVona, has specifically been praised for her performance in I, Tonya. During this year's awards season, Janey took home both the Critics' Choice Award, Golden Globe, and Academy Award for Best Supporting Actress for this role. Additionally, Margot Robbie was nominated for both the Golden Globe and Academy Award for Best Actress this year, and took home a Critics' Choice Award for her performance.
Though I, Tonya most certainly paints the picture that Tonya Harding was innocent during the events that unfolded in 1994, the world may never know whether she was truly involved in the planned attack on Nancy Kerrigan. After watching I, Tonya, it's up to the viewers to decide. Is Tonya innocent, or guilty?
About the Writer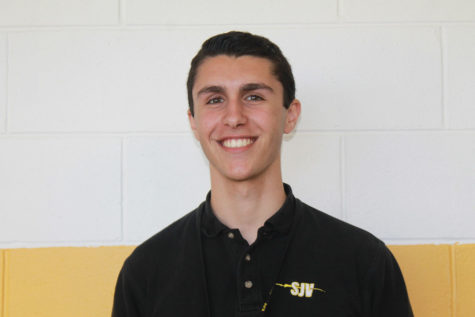 William DeMuria, Editor-in-Chief, Pop Culture Editor
What's good? My name is William DeMuria and I'm a senior at Saint John Vianney. I participate in Key Club, Culinary Club, the school musical, the Director...