A Spray On Dress Can Help Save the Environment?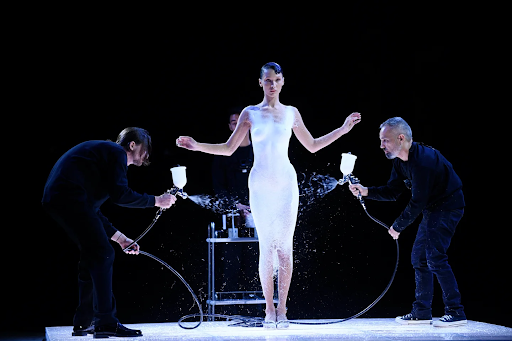 On Friday night of Paris Fashion Week Bella Hadid closed Coperni's spring-summer 2023 show with a unique dress that was sprayed onto her body on the runway. Bella Hadid, stood in the middle of the runway; while the creator of the fabrican (the liquid spray) and two other scientists dispersed the dress on her.  
Once the fabrican was sprayed on the supermodel, the head of design, Charlotte Raymond, came onstage and moved around the reckline, shoulder straps, and cut a slit in the leg of the dress. The texture looked to be as smooth as butter, and Bella Hadid seemed to be walking around with ese. There were no seams, no hem, and nothing traditional that kept the dress together. 
Fabrican has been a work in progress since the early 2000s. The material is made up of liquid polymers, additives, different types of binders, cross-linked natural and synthetic fibers, and a fast evaporation solvent. With a change in the amount of any of these substances, the scientists will be able to manipulate the fabrican to make the texture different; for example, it can be a t-shirt, latex, fleece, or rubber texture. 
The fabrican is coming during a time in the fashion industry where major companies are having to reap the consequences of their effects on the environment. With major corporations using sweatshops and areas in the world where they can pay unlivable wages for more of a piece of clothing, the environment is becoming more and more polluted. 
With that, people are forcing these companies to make a change, switching to different materials such as seaweed, mushrooms, and fabrican. The fabrican can be taken off one's body and put right back in the liquid for reuse. This environmentally friendly fabrican can potentially change the face of fashion. 
Although this fabrican is not for sale at the moment, the designers thought process behind this was that people can go into a booth and customize their own dress and almost instantly have it sprayed onto their body. Right now, the hope is to just get it out so that it can be used for spot repairs.