Rihanna and Chris Stapleton Take on Super Bowl LVII
Super Bowl LVII will be a battle of the best between the Kansas City Chiefs and Philadelphia Eagles. The game will begin Sunday, February 12, at 6:30 p.m. EST. Kansas City Chiefs' quarterback, Patrick Mahomes, has a lot riding on this game against Philadelphia quarterback, Jalen Hurts. These two team players are the talk of the game. However, they are not the only celebrities being talked about.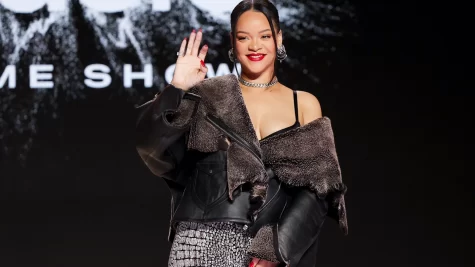 For the first time in 5 years, Rihanna will perform in public, headlining the Super Bowl Halftime show. It will take a great performance to knock off the halftime show of Super Bowl LVI. Viewers had the pleasure of seeing multiple artists including Mary J. Blidge, Dr. Dre, Snoop Dog, Eminem, and Kendrick Lamar perform at SoFi Stadium last season. These music artists performed among a set that looked like a Los Angeles neighborhood. They even had cameos from 50 cent and Anderson Paak. As of now, Rihanna will be the first performer  in years to possibly be on stage alone. Unless, she has a surprise waiting for the performance. Rihanna is the third most awarded female artist and has received 13 AMA awards in her career. Although, she will have to come up with a spectacular performance to get the reputation she used to have six years ago when she released her last studio album. Many fans are hoping that performing publicly again means she will have another album release in the near future to come out of the shadows.  
The Super Bowl always needs someone to kick off the game and this year, Chris Stapelton has the honor of singing the national anthem. Performing publicly is nothing new for this country music artist. He has been awarded the Grammy award eight times and the Country Music Assn. award fifteen times. For those with a hearing impairment, Troy Kotsur will perform the national anthem in American Sign Language. Because the Super Bowl has to try and be the best event of the year, "America the Beautiful" will also be sung by Babyface and "Lift Every Voice and Sing" will be sung by Sheryl Lee Ralph. Both singers will also be accompanied by ASL performers.
It is a rare occurrence that a country music and pop artist perform together at a NFL Super Bowl. Fans are hoping this performance will be a comeback for Rihanna. More to come on Sunday, the 12th. Get ready for the show!