"Dangerous Woman" at a Glance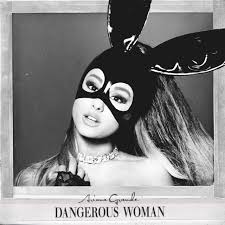 On May 20, Ariana Grande released her third studio album, "Dangerous Woman." Unlike her first two albums, "Yours Truly" and "My Everything," the chart-topping superstar is revealing a whole new side of herself that her fans have yet to see.
"Dangerous Woman" is an interesting combination of slow, love ballads and upbeat anthems that will have you shouting the lyrics to every song. The album, which has arrived just in time for summer, proves Grande's place in the music industry by displaying her one-of-a-kind high ranged vocals and her ability to produce pop hits. Here is Lancer's Point's track-by-track review of the new album which will surely have you on your feet after one listen.
"Moonlight"
This 50's inspired track may seem a little out of place at first compared to the other songs on the album, but it definitely sets the mood for all that is to come. Even though it does not represent the rest of the songs, from the second you hear the violin in the background, you will understand why this is a perfect fit on Grande's third outing.
"

Dangerous Woman"
There is no holding back when it comes to this song, which is the first single off of the album. Grande breaks away from her once pure vocals and unveils a new "dangerous" side of herself, and she isn't shying away. From the head-nodding beat to Grande's killer high notes to the incredible electric guitar riff near the end, there's no going back after you have given this song a listen.
"

Be Alright"
I'll be honest: I wasn't a fan of this song at first. In fact, I think the word "hate" would even fit here. After hearing the song for the first time in Grande's "SNL" performance recently, I was immediately annoyed by the xylophone-like sound played at the beginning. Though, after a few listens, I realized the song was more catchy than I thought and I was, once again, under Grande's spell. This song is definitely one of the standouts on the album.
"

Into You"
As I was listening to this song, I found myself uncontrollably tapping my foot to the irresistible beat that plays throughout the four-minute song. The "finger snaps" that play during the verses don't hurt either. No wonder this song was chosen to be the second single off the album. While listening, you can even picture this song playing at a club with tons of people dancing to it all night. This song will have you shouting "I'm so into you, into you, into you…" shamelessly as you are walking through the frozen-food aisle, and honestly, we wouldn't blame you.
"

Side to Side"

(featuring Nicki Minaj)
Though this song may not be the type you'd hear while dancing at a nightclub,  it definitely has jam potential written all over it. Once you thought couldn't get any better, Nicki Minaj comes out and lends her vocals to the song and proves her outstanding rap talent. Minaj's verse is a perfect fit for the song and once you put her and Grande together, there is nothing stopping this duo.
"Let Me Love You" (featuring Lil Wayne)
After multiple listens to this song, which Grande also released a music video to, I just couldn't get myself to enjoy it. I mean, who thought it would be a choice to bring Ariana Grande and Lil Wayne together to make a song? And in all honestly, Wayne's rap verse on this song is more enjoyable than Grande's vocals, which do not display her wide vocal range at all. This song is also one of the more dark and slower songs on the album, and will leave you probably skipping over it.
"Greedy"
Did Ariana Grande just take a try at disco…and succeed? The beat on this song is so positively infectious that it will most likely be on repeat for 24 straight hours (that might be an exaggeration, but trust us–it's AMAZING!) The whole point of this song is that there is a new boy in Grande's life and she just can't get enough of his love, and we have very similar feelings about this song. If it were still the 70's, this song would more than likely be playing in Studio 54 right now.
"Leave Me Lonely" (featuring Macy Gray)
The thing about this Ariana Grande song is that it doesn't sound like an Ariana Grande song. Who would have expected Macy Gray, a raspy soul singer, and Grande, a traditionally pop singer, to team up? The answer is no one, yet this song will pull you in for another listen faster than half of the other songs on the album. Though the point of the song may be a little typical, as the two sing about a "dangerous love," there is no denying the epicness of it.
"Everyday" (featuring Future)
Okay, it's not the worst song you will hear in your lifetime, but let's just say that hearing Future repeat the word "everyday" 12 times in each chorus got very annoying. Also, the rap verse from Future was very misplaced in this song and just didn't feel like it belonged there. I would have much rather had the song slow down for the bridge and hear Grande do what she does best before speeding up for the end of the song. Though, if there is one good thing about this song, it is that the chorus will be stuck in your head for a while, whether you like it or not. Overall, I'd give this song two and a half stars if I had to.
"Sometimes"
To be as blunt as I possibly can, I hate this song. Listening to it strongly reminded me of Grande's first album, "Yours Truly," which was nothing special and very bubblegum pop. This song is a little too much of the old Ariana and not enough of the new and "dangerous" Ariana that she set out to be with the release of this album. When you listen to this album and eventually get to this song, it will without a doubt leave you wondering, "Why is this here?"
"I Don't Care"
Despite this song being less than three minutes, and barely even qualifying as a full song, it is one of the few standouts on this album in my opinion. In this song, Grande sings about letting go about the worries in her life and living for herself because she simply "doesn't care about it anymore."  
"Bad Decisions"
If there's one thing for sure, it's that listening to this song was anything but a bad decision. Don't let the high-pitched squeaking noise at the beginning of the song throw you off. In this song, Grande describes her relationship and how it is wrong in all the right ways, and it could not be more of a perfect fit for this album. This song is easily a standout on the album, and rightfully so. When Grande sings "We got that hood love, we got that good love," it will have you dancing 'til there's no tomorrow.
"Touch It"
Just from the title, you may think that this song will be just another innapropriate song that will have you thinking "I miss when she was an innocent child star," but don't be mislead. Grande promises her love that he has no reason to worry because no one else is going to come after her and take her from him, but if you listen to this song, I'll think you'll understand why her boyfriend has every reason to worry. From the catchy chorus to the rhythmic bassline that plays throughout the song, you will undoubtedly love this song and have it on repeat until you have gotten it stuck in all of your friends' heads, too.
"Knew Better/Forever Boy"
This song is amazing to say the least. In the beginning, we hear Grande proclaiming to her love that "there ain't nobody like me," then it eases into the second part of the song, "Forever Boy." In the second half of the song, Grande makes it clear that her boy is her "forever boy" and that she hopes to have a future with him. The seamless transition between the two parts makes for one fun jam that is unlike the others on the album. Though I was happy with the mix of these two songs, I can't help but think that it would have probably been better had they been separated and were released as two individual songs. But you know what they say– you can't always get what you want. Luckily, this one big song will do for now.
"Thinking Bout You"
This song is a perfect end to Grande's album. After 14 tracks of Grande showing off her new "dangerous" personality, Grande unveils her vulnerable side. She makes it clear that even though she is a new person, she still has feelings, and "Thinking Bout You" displays those emotions perfectly. Though the rhythm of the song does sound a little similar to the others–the repeated words in the chorus, the endless high notes, etc.–Grande manages to keep this song relatable to her audience and admits that even her relationships are complicated, too.
Overall, you MUST listen to this album. Even if you aren't interested in her Mariah Carey-esque vocals, or maybe you are even still annoyed about her donut-licking incident, it is time to put all of that aside and give Grande a chance. She proves why she is a household name, and that even though she may not be the same redhead who appeared on a Nickelodeon show a few years ago, she is the same talented singer who deserves her stardom.