"Younger Now" At a Glance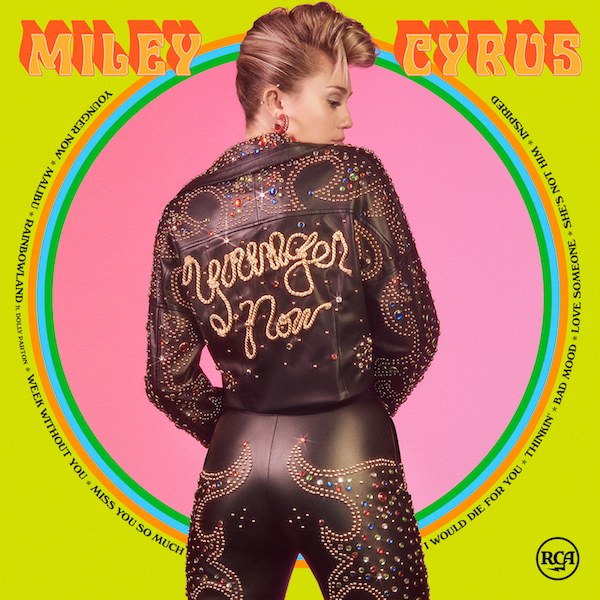 "I swear to God, you are younger now than you were years ago," said Miley Cyrus' mom last Christmas, inspiring the title of her new album, Younger Now. Her first major release since 2013's Miley Cyrus and Her Dead Petz, Younger Now illustrates Cyrus' new musical style, and exemplifies how she has decided to trade in the electronic sounds of hip-hop for an acoustic guitar. The new album, writing solely by Cyrus, is filled with 11 tracks that perfectly display the versatile vocals of the 24-year-old pop star, and prove to her audience why she isn't going anywhere anytime soon.
Here is a track-by-track review of Younger Now, featuring the good and the not-as-good-but-still-amazing.
"Younger Now"
Best lyric: "Even though it's not who I am, I'm not afraid of who I used to be."
The album's opener calmly kicks off with the sound of rain falling, and a frog's croak in the background. Interestingly enough, according to Cyrus, the sound of the rain and frog were actually recorded in her own backyard in Malibu!
In "Younger Now," Cyrus sings of how change should not be considered a bad thing. It is no secret that Cyrus changes often, but she certainly embraces it. When discussing the song, Cyrus stated, "Now I can be proud of all the Mileys that I've ever been instead of trying to run away from the 11-year-old one or feel like I'm not Hannah Montana."
This track certainly sets the tone for the rest of the album. With its irresistible chorus and relatable message, it's no wonder why Cyrus chose to open her sixth studio album with it.
"Malibu"
Best lyric: "It's a brand new start, a dream come true… in Malibu."
It is clear why Cyrus decided to release "Malibu" as the first single from her new album last May. In an interview conducted at the time of the song's initial release, Cyrus stated how she actually wrote the album on her way to The Voice in June of 2016, nearly a year before the song's release. "I decided to Uber, and I was trying not to sing out loud because someone else was in the car," Cyrus said in regards to writing the song.
After listening to the song, it's quite simple to figure out that "Malibu" is, in fact, a love song about Cyrus' fiancé, Liam Hemsworth. The pair, who met while filming The Last Song in 2010, have recently rekindled their romance after ending their engagement in September of 2013. As they are now back together, Cyrus sings of how they have a "brand new start" and how they spend time together living in Malibu.
Though the tone of the song doesn't necessarily reflect the rest of the album, it is still nonetheless and standout on Younger Now and is a perfect choice for the album's lead single.
"Rainbowland (feat. Dolly Parton)"
Best lyric: "We are rainbows, me and you, every color, every hue."
The third track on Younger Now could easily be considered Cyrus' most political song to date. Though at first listen it may seem like just another country song about nonsense, it is actually a big political statement on Cyrus' part. In "Rainbowland," Cyrus sings of how we are all "rainbows," meaning that we are different but are able to come together as one to shine through.
In regards to why Cyrus and Parton refer to the imaginative place where there is peace in the world as "Rainbowland," it is actually because the name of the recording studio at Cyrus' house in Malibu is dubbed "Rainbowland." Cyrus recorded most of Younger Now in her "Rainbowland" studio, making it obvious why she would name a song after it.
Many people actually may not know that Parton is, in fact, Cyrus' godmother! Though the duo has worked with each other in the past, even in Cyrus' show, Hannah Montana, this is the first time they have recorded a song together! Considering Parton is country royalty, this makes "Rainbowland" an extra special song on the album.
"Week Without You"
Best lyric: "I know that I gave you my heart, but you stomped it to the ground."
This song was released last week as the fourth promotional single off the album to commemorate a "week" until the full album's release. Though "Week Without You" starts as a breakup song, with Cyrus singing about what it would be like to spend a week without her significant other, it eventually turns into her hoping she never has to spend a week without the one she loves.
"Week Without You" has an irresistible country rhythm that has even enticed Cyrus' fans who are used to her hip-hop/pop music. Though this is certainly a new style for those who have listened to her music over the years, it is undoubtedly a standout on Younger Now, and a fan favorite!
"Miss You So Much"
Best lyric: "You can take my blood, take my bones, my heart is yours, I volunteer."
It goes without saying that this song is easily one of the saddest on the album. "Miss You So Much" describes Cyrus' longing to be with someone who, even though they are still very much around, feels distant emotionally. Before you listen, be prepared, because this slow, guitar-based song is definitely a tearjerker.
At first listen, people would automatically assume the song is about Cyrus' relationship with Hemsworth. However, Cyrus has denied this and has explained the true inspiration behind the song, saying, "It's for one of my really close friends whose boyfriend surprisingly OD'ed. It's about how once someone's gone, they're not really gone. If you love them, they're here."
Cyrus also has shared that the song could reflect her relationship with her grandmother as well. "I was hanging out with her the day I was going to record that song, and it made me kind of think about her, the more I started singing it. I started thinking about, 'How can I miss you already?'," she explained in an interview with NPR.
"I Would Die for You"
Best lyric: "When you're gone, time moves slow, like the grass I've watched us grow."
In the sixth song off of Cyrus' new album, she sings of how much she loves her significant other, and what she would do for him. Despite the title and overall theme of the song sounding intense, it is only done to represent Cyrus' immense love and how much the one she loves means to her.
Though "I Would Die for You" is definitely not the strongest track on the album, it is absolutely still strong in other aspects. Cyrus' songwriting prevails in this track, proving that she is more than just another singer. Additionally, the song exemplifies Cyrus' vulnerability when it comes to the one she loves, displaying her raw emotion.
"Thinkin'"
Best lyric: "Something seems just a little sus, we ain't got nothing if there ain't no trust."
In this song, Cyrus sings of how her significant other's questionable acts have her rethinking their relationship. "Thinkin'" begins with a rhythmic guitar riff, leading into Cyrus singing against a playful beat, making the track one of the album's best.
Even though "Thinkin'" has just been released, it is already radio-ready! With the song's undeniably catchy lyrics, this song would be a perfect choice to be the next single off of Younger Now!
"Bad Mood"
Best lyric: "And you know I'm never giving up, I ain't stopping 'til I know I'm free."
On this track, Cyrus sings of being disrespected in a relationship, and how she has reached her breaking point. In the beginning of the song, Cyrus sings of the problems in her relationship. As the song progresses, however, she makes it clear that she will no longer put up with these issues. Though Cyrus has not confirmed the inspiration behind the track, many fans have speculated that it is about Cyrus and Hemsworth's breakup in 2013.
At first listen, "Bad Mood" may seem simply forgettable. However, if you give it a few more listens, you will be humming the echoes from the song's intro before you know it! A perfect balance between pop and Cyrus' country roots, "Bad Mood" is a perfect addition to this album!
"Love Someone"
Best lyric: "Don't you dare say I don't care, when I need you most, you know you're never there."
This track is arguably one of the best on the entire album. Gearing more towards Cyrus' background in pop, many of her fans will be more than happy to get the chance to blast this song through their car speakers. Though the verses do feature a hint of country in them, the song's chorus unleashes an unforgettable and irresistible pop beat.
Though just hearing the title of the song may lead to one thinking that it is about Cyrus' love for someone, it is actually about the opposite! In "Love Someone," Cyrus sings how she knew her significant other wasn't the one for her ever since they day they met. With an interesting meaning and compelling rhythm, "Love Someone" is most definitely a standout on Younger Now.
 "She's Not Him"
Best lyric: "You deserve a heart much bigger than one that's torn in two."
In this song, Cyrus sings of how even though she loves the person she is with, they cannot stay together as she keeps comparing her to her old flame whom she still loves as well. Many people speculate that this song is about Cyrus' ex, Stella Maxwell, whom she dated after breaking off her engagement with Hemsworth in 2013. However, Cyrus has stated that this song is actually about Hillary Clinton, who she publicly supported in the 2016 election.
A departure from her more upbeat songs on the album, "She's Not Him" is a perfect way to lead into the final track on the album. With a beautiful message and astounding vocals, this song is a must-listen.
 "Inspired"
Best lyric: "There's a lock up on the door, but we hold the key to change."
Similar to "Rainbowland" and "She's Not Him," this song is also a major political statement. In "Inspired," Cyrus sings of how we the people are the key to change in the world. In times like today, this could not be more true. The singer-songwriter has even said that this song is a "new, older version" of her 2009 hit, "The Climb."
Cyrus released the album's closing track on June 9 as a promotional single for Younger Now, and also as a celebration for Pride Month. Additionally, shortly after the song's release, she performed "Inspired" at Ariana Grande's "One Love Manchester" concert to share how we need more love in the world. This song, though it is undoubtedly unlike the rest, is one of the most important on the entire album.
Younger Now is available to buy in stores everywhere, or for streaming on all platforms now! Go ahead and give it a listen—you won't regret it!