BroadwayCon Takes the Stage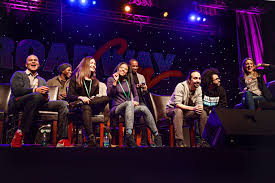 It's that time of year again: time to get your tickets to BroadwayCon! BroadwayCon 2018 is the third annual gathering of theatre-lovers and Broadway stars. It will be held from Jan. 26 to the 28 at the Jacob Javits Center in New York.
This year, there will be plenty of time to meet your favorite stars from various Broadway shows. For example, the original cast of "In the Heights" will reunite at BroadwayCon in honor of the musical's tenth anniversary. Additionally, many other stars, such as Alice Ripley from "Next to Normal" and "American Psycho" will be available to sign autographs and take photos with fans.
A majority of the panels this year will be based on the art and unsung heroes of the theatre. One panel that will be held will be called "Dancing Through Life: The Transition from a Dancer to a Choreographer," which will explain the art of choreography and what it takes to become a famous Broadway Choreographer. Another panel, "Thank You, Five!: The Stage Management Panel," will discuss the stage manager's role and the aspects of their job.
Each day at BroadwayCon, there is an opportunity to take a workshop to improve your dancing and acting skills. Even though there is an additional fee to take a class, each one will help improve your talent. For example, one dance workshop is dedicated to hip-hop, and another one is for Shakespearean acting. The workshops are taught by different Broadway choreographers and actors, so you may have seen them in the last show you attended.
The Jacob Javits Center is almost all ready to go. The actors are already preparing their speeches, so the only thing missing is you! Get your tickets soon!