Travis Scott's Astroworld Crowd Crush
On Friday, Nov. 5, 2021, a disaster occurred at Travis's Scotts Astroworld Festival in Houston, Texas.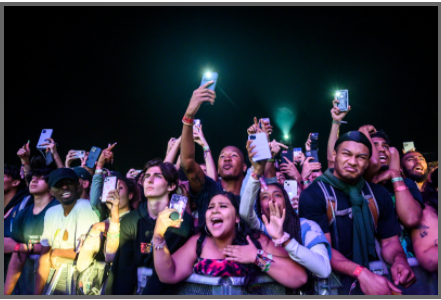 Fifty thousand people showed up to the sold-out concert at NRG Park to see world-renowned rapper Travis Scott perform. What they thought was going to be an amazing Friday night concert – turned into a late-night disaster.
A recorded ten people died that night. Among them, several hundred people were hospitalized nearby. This event occurred due to a term that goes by "crowd crush." Crowd crush happens at large public events where people push to the front and are unaware of surrounding people, utterly being crushed to death. 
It's something that is sadly common. In 2010, a similar event happened at a "Love Parade." There, 21 people were killed while walking.
At Astroworld Fest,  people were fighting for their lives trying to escape the crowd. 
The 10 people killed ranged from age nine to 27. There are videos being posted showing fans going on stage yelling at crew members to stop the show. They were screaming, "There is somebody dead in there."
Those Who Passed
The concert took the lives of ten people. Two 21-year-olds, a 27, 23, 14, 20, 23, 22, 9 and a 16-year-old. 
Axel Acosta Avila, 21
A 21-year-old was a junior at Western Washington University. Axel had gone to the concert alone. The last time he spoke to someone was right before the concert. His family was unaware of his passing until the media posted remains, asking the public if they could identify him.
Franco Patino, 21
Franco was a 21-year-old who was a senior at the University of Dayton. According to his family and friends, "Even though he was a hardworking individual, he would always try to make time for his family and the people he cared about. We will miss the big heart Franco had and his passion for helping others."
John Hilgert, 14
John Hilgert was a freshman in high school and is among the youngest who passed at the concert. Reporters were told by family members that Hilgert wanted to attend the concert early to get a good view. Many of his friends, family, and coaches described him as a sweet and kindhearted kid.
Brianna Rodriguez, 16
Brianna attended Heights Highschool in Houston, Texas. She was a part of the band's dance team and loved to perform. At her school, messages went out explaining to parents that a student had died. They offered grief counselors to students. 
Rudy Pena, 23
Pena was taken to a nearby hospital, Ben Taub Hospital, where his family was notified that he had passed. Though, it is unknown to the public if he passed at the concert or the hospital.
Danish Baig, 27
Danish Baig was a 27-year-old male who went to the festival for a fun night. He had gone with his brother and his sister-in-law. The brother says the injuries causing his dead were caused by him trying to save his sister-in-law from being trampled in the crowd.
Jacob E. Jurinek, 20
Jacob was a 20-year-old junior attending Southern Illinois University. The school's hierarchy says that Jurinek had a promising career in journalism and advertising. Jurineks father, Ron, says that they became closer back in 2011 when his mom died. 
Madison Dubiski, 23
Madison Dubiski was a 23-year-old who attended the University of Mississippi. She had gone to this concert with her brother Ty. When they got separated among the crowd, it was the last time they had seen each other. Fortunately, Ty was able to make it out.
Bharti Shahani, 22
Bharti was a victim who died while in the hospital, days after the incident. There are videos going around of a woman falling off a gurney and falling on her neck. Sadly, Shahani was identified as that woman. She was a student at Texas A&M University who studied computer science. 
Ezra Blount, 9
This young 9-year-old became the 10th, and as of now, the youngest victim. Ezra was on his father's shoulders. The father had passed out from lack of oxygen, and when he woke back up – Blount had severe trauma to his body and brain. While at the hospital, he was put into a medically induced coma and he later passed.