American Horror Story Hotel: You Can't Check Out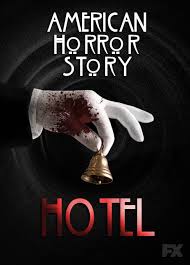 American Horror Story Hotel is the fifth season of the critically acclaimed FX television series American Horror Story (AHS). Announced in Feb. of 2015, Hotel is the theme and title of the new season. The show premiered on Oct. 7 and is on FX every Wednesday night at 10pm EST.
AHS is an anthology series; which means, it premiers a new story, set , and characters each season. AHS uses the same actors, but this season has introduced many new faces, including six-time Grammy Award winner, Lady Gaga.
The plot of the new season is centered in the mysterious Hotel Cortez in Los Angles, where residents can check in but they can't seem to check out. AHS alumn, Angela Bassett, says the new season is "sometimes shocking, sometimes hilarious, sometimes filthy."
According to creator and writer Ryan Murphy, this season will explore themes of addiction, personal terrors, and disturbing Hotel oriented scenarios. Matt Bomer and Chloe Sevigny, who play residents of the hotel, say that "everyone has a story from staying in a hotel where they've been creeped out," and the Cortez is "a hot bed of evil activity."
Murphy plans on creating a sinister world that will be darker and bloodier than the previous seasons. He revealed that a few of the new villains, including Gaga and Bomer, are blood suckers. "It's not vampires," Murphy says, "They are very wealthy and consumed with art and fashion and people. She [Gaga] has a nefarious plan that is revealed in the first episode."
AHS has already been renewed for a new season after tremendous ratings of the first episode with more than 5.5 million viewers. But the story of the Hotel is just beginning to unfold. Lady Gaga, the countess of the hotel, says that "I can't wait for you to check into my hotel."