La La Land, A Fool's Dream in the City of Stars
"Here's to the fools who dream…"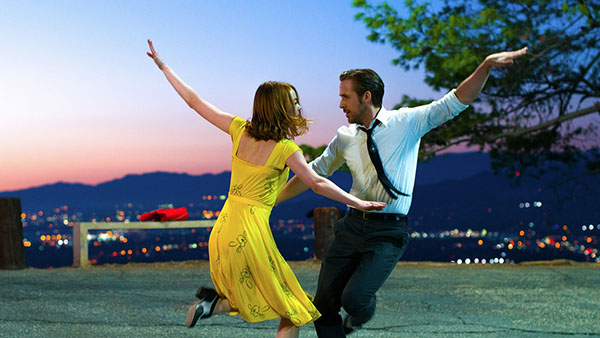 From the second La La Land starts, it is clear that this film is unlike any other during our time. At the very beginning of the movie, it is told to the audience that it is "filmed in Cinemascope," an old form of filmmaking, providing an overwhelming sense of nostalgia to the audience, reminding them of films of the past.
La La Land is the ultimate love letter to Hollywood, and will leave its memorable songs, brilliant acting, and the bright lights of L.A. stuck in your mind and hearts.
Set in modern Los Angeles, La La Land centers on two strangers–and eventual lovers–Mia and Sebastian chasing their dreams in the "City of Stars." As these two characters struggle to make ends meet in a city filled with high hopes and breaking hearts, they soon learn the joy and pain that goes along with pursuing their dreams.
Sebastian, played by Ryan Gosling, is a jazz pianist who is currently working in a restaurant playing, wait for it, Christmas music. Suffice to say, he is looking for more out of life, and he dreams to someday open his own jazz club where he can play the music that he loves for an audience.
Mia, played by Emma Stone, is a barista at a coffee shop on the Warner Brothers Backlot where she sees Hollywood's biggest stars walk in every day. She dreams of one day being a movie star with her name in lights, though it seems that she's hit a dead end in her career before it's even taken off. Despite Mia's countless failed auditions and callbacks, she stays hopeful and insists on pursuing her dream to no end.
Together, Mia and Sebastian push each other towards their dreams, though they soon realize that in order to make their dreams a reality, their relationship will be put in jeopardy.
Since its release, La La Land has received plenty of buzz, with predictions to win multiple Academy Awards and consideration to be the best film of 2016. Critics have praised the screenplay, acting, directing, musical performances, and the score for the film, making it a standout among other releases of the year.
Acclaimed film critic website RogerEbert.com spoke of the film's two main leads, saying, "It helps that Gosling and Stone have the kind of star power that made so many of those classic era musicals memorable. He's smooth and charismatic; She's clever and beautiful. The phrase has lost most of its meaning, but these are movie stars."
La La Land, without a doubt, stole the show at this year's Golden Globe Awards, which were held on Jan. 8. The film took home a seven wins from the awards show, and even set a record for most Golden Globes won by a single film. La La Land received a majority of the most prestigious awards of the night, including Best Motion Picture– Musical or Comedy, Best Director, Best Actor, Best Actress, Best Screenplay, Best Original Score, and Best Original Song.
As said from RogerEbert.com, "It's easy to let the world get you down sometimes, especially in a year like this one. It's easy to think that dreams don't come true, and that love only exists in movies. "La La Land" serves to remind us that movies can still be magical, and they can still provide the channel for us to see magic in the world around us. It's not so much another day in the sun, as the characters sing in that opening number, but the dreams of the night before, the ones we wake up and try to fulfill, that keep us dancing.
Though it may not be the same kind of average love story that you have grown accustomed to seeing over the years, La La Land will undoubtedly remind you of the dreams of your past and fill you with promising hope for the future. Next time you head to the movies, take a trip to La La Land, the city of fools who dream and where anything is possible.