Eight Fall Festivities in the Garden State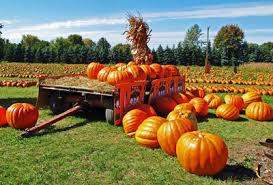 Kelly Garcia, School News/Art, Music, Books Editor, Writer
September 29, 2017
Looking for something fun to do this Fall with family or friends? Here is a list of some activities and events you can attend in the upcoming season!
The Bane Haunted House: Sept 22, 2017 to Oct 31, 2017 in Livingston, New Jersey
Named "The Scariest Haunted House in New Jersey" by the Star-Ledger, the Bane Haunted House frightens just about anyone who visits it. Visitors must overcome many obstacles throughout the haunted house by jumping, crawling, spinning, and climbing through them. Over 100 live actors work to scare the visitors in the 40,000 square foot building.
Buy your tickets here: https://app.hauntpay.com/events/bane-haunted-house
  South Jersey Pumpkin Show: Oct 13

to Oct 15, 2017
For the 14th year in a row, the South Jersey Pumpkin Show is occurring for one weekend only in Woodstown, New Jersey. The festival is full of food, amusement rides, live entertainment, artists, and many decorated pumpkins. Admission to this event is completely free, and parking only costs $5. What an awesome way to enjoy Fall for an inexpensive cost!
For more information, visit: http://www.sjpumpkinshow.com/
A. Casola Farm's FallFest: Sept 16, 2017 to Oct 31, 2017 in Holmdel, New Jersey
From pumpkin picking to haunted hayrides, A. Casola Farms has it all. This farm is open 7 days a week throughout Fall. On weekdays, guests can go on a hay wagon ride, pony ride, pick pumpkins, and pick pumpkins. On weekends, guests can do all of those things, plus a corn maze or a haunted hayride! Besides the "A" location in Holmdel, there are other Casola Farms locations in New Jersey, such as in Marlboro and Manalapan.
To find out more about A. Casola Farms, click here: http://acasolafarms.com/
Downtown Wildwood Fall Harvest Farmer's Market: Sept 30 to Oct 28, 2017
From 8 AM to 12:30 PM on Saturdays, Fall harvest vegetables, fruits, flowers, baked goods, and handmade items are sold in this market in Wildwood, New Jersey. It is located specifically on Pacific Avenue between Oak and Schellenger Avenues, and there is free parking!
Call 609-523-1602 or visit http://DOOWW.com/ to find out more!
Haunted Scarehouse: Sept 29 to Oct 31, 2017 in Wharton, New Jersey
With two Floors of Fear, the Haunted Scarehouse is a true thriller. The entire group that you come with must try to escape from the house before time runs out. After 6 PM, live actors are added to the puzzle, making it more difficult to escape. With four escape rooms to choose from, there is always something for everyone.
For more details on this haunted place, visit: http://hauntedscarehouse.com/
Dunellen HarvestFest: Oct 8, 2017
The Dunellen HarvestFest is a free event in Washington Park near downtown Dunellen. There will be live music, dancing, an apple pie contest, scarecrow contest, and many more fun activities for all ages! Children especially will have tons of fun at this event with the art contest and carriage rides.
Visit https://sites.google.com/a/dunellenborough.com/dunellenharvestfest/home for more information!
Duck Pond Oktoberfest: Oct 14, 2017 in Demarest, New Jersey
This craft show will be held for the 35th year in a row. The event will have up to 75 people displaying their artwork and crafts. Besides crafts, the Duck Pond Oktoberfest will include German music, food, Korean desserts, and games for children. If you attend this craft show, you can get ahead of the game on your holiday shopping, and buy some beautiful gifts for your loved ones!
Read more about the event here: http://www.demarestnaturecenter.org/oktoberfest/
Morey's Piers Oktoberfest: Sept 24 to Oct 8, 2017 in Wildwood, New Jersey
Head down to the boardwalk this fall for an event full of German tradition and cheer. This event will include roller coasters, pretzels, tilt-a-whirls, and more! Also, Jumbo's Restaurant will feature a German theme on their menu, complete with German potato salad, schnitzel, and bratwurst. Bands will also be playing on the main stage on Friday and Saturday nights from 6:30 to 9:30 PM.
Call 609-522-3900 or visit www.moreyspiers.com/oktoberfest for more information!
Whether you are looking for a relaxed hayride or a horror-filled night escaping a haunted house, there is something for everyone to do this fall in New Jersey!