The Titanic Sets Sail, Again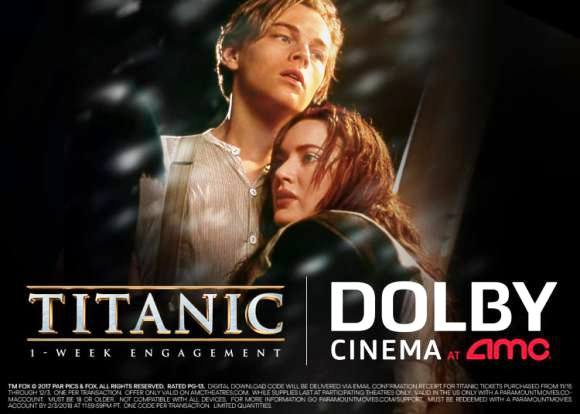 Just when you thought their love story had drowned in the ocean, Jack and Rose are coming back to theaters for the 20th anniversary of the release of Titanic. The movie is set to play in numerous AMC theaters throughout the country beginning on Dec. 1.
The director of Titanic, James Cameron, worked closely with movie theaters and Dolby vision to ensure that the movie would be a scene the audience never expected. Dolby Vision, which is only available at certain cinemas, consists of the screen extending from ceiling to floor with a brighter and better picture. Those who have the opportunity to see the film in this environment have Cameron's guarantee that "this is beyond 3D, beyond 70mm, it's beyond anything you've seen before." He continued, saying, "The image leaps off the screen as bright and vibrant as life itself. This is the way all movies should be seen and without a doubt, 'Titanic' has NEVER looked better."
The plot follows the unexpected love story of Jack and Rose upon the infamous RMS Titanic. On the "ship of dreams," the two defy expectations of the social classes by falling deeply in love with one another. In order to keep her family wealthy, Rose, as a first class lady, is expected to marry a rich man. However, Jack shows Rose how to "make life count." The two plan to run off together when the ship docks in America, but the ship tragically crashes into an iceberg, sinking the ship. Sadly, Jack is one of the casualties of the shipwreck, and Rose is forced to go on with the rest of her life.
The movie has been stealing the hearts of many since it's debut in 1997. Some attribute its popularity to the young Leonardo DiCaprio, while others applaud the believability of a story that could have taken place on the actual Titanic. Either way, Titanic is a classic movie that everyone should experience in Dolby Vision this holiday season.