Black Panther: Wakanda Forever Review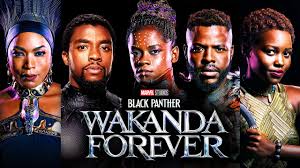 Black Panther: Wakanda Forever was a heartfelt movie that touched many fans emotionally. Fans grieving a loved one can understand Shuri's actions and her need to get away. Shuri wanted to help Riri from getting captured by Namor and his people. I believe this movie could have been condensed into a 2-hour movie by cutting out the "fluff" scenes. After watching the movie I felt plot points were missing, but it was a great way to represent present-day issues. For example, it showcased how people grieve in different ways. Queen Ramonda had to put her grief aside to run a country, while Shuri had time to process her brother's death. At the movie's beginning, we see Shuri trying to prevent T'Challa's death. Shuri is a relatable character for loved ones suffering deaths within their family. I believe this movie is perceptive and displays grief from an artistic viewpoint. 
This movie hit the mark it was reaching for. Fans have made reviews expressing their thoughts and feelings about the film. Most of these reviews are raving, but there will always be a negative comment. Wakanda Forever did a good job showcasing familial relations, grief, coming together, and vengeance. The villain, Namor, is not depicted as what people assume a villain should act. He's the king of Talokan, afraid of Wakanda's power, and his only concern is protecting his people. Like every superhero movie, there's always a sad background. Namor's mother and her people drank a plant that would give them strength and healing abilities to escape their oppressors. This plant prevented the people from breathing oxygen, forcing them to move underwater. Namor has stronger powers and the ability to fly because his mother drank the plant while pregnant, resulting in Namor becoming a mutant. Namor warned Shuri about attacking Wakanda if he wasn't allowed to kill Riri for creating a machine that detects vibranium. Vibranium is the most robust material in this world and can be used to develop weapons of mass destruction. Shuri refuses to allow Riri's death, so she's kidnapped and brought into Namor's home. In turn, the people guarding Shuri and Riri were attacked when they were rescued. One of Nomar's subjects is murdered during their escape, which fuels his revenge. Nomar is not the only villain, Shuri's need for vengeance is another evil. Although this specific villain is not tangible, it impacts the movie's plot. Shuri wants to kill Namor for murdering Queen Ramonda, her mother, in front of her eyes. While watching the film, it was evident the directors impacted the people the way they wanted to. Several people beside me were crying at Shuri's flashbacks of T'Challa and how she channeled her emotions into rage. Letitia's acting had me crying and laughing at moments of grief.  
T'Challa, played by Chadwick Boseman, was the original Black Panther before Shuri, Letitia Wright, adopted that role. Boseman was filled with love and joy for the people around him, and it was greatly reflected in this memorial piece. Sadly, Chadwick passed away from colon cancer on August 28, 2022, at only 43 years old. This movie was sentimental to marvel fans but especially to the people he impacted. There are multiple accounts of Chadwick visiting ill fans and making their pain easier. While fighting his colon cancer, Chadwick went to hospitals and cheered up suffering patients. In 2018, during Black Panther filming, Chadwick visited Saint Judes Children's Research Hospital in Tennessee. He brought toys and gifts to light up the children's day. When Chadwick passed, those kids could reminisce on the joy he spread. As I was watching Wakanda Forever, I felt nostalgic realizing this was the last time we would see Chadwick on screen. Regardless of my thoughts, Black Panther: Wakanda Forever is a must-see movie!