25,000 People Run in the Footsteps of a Hero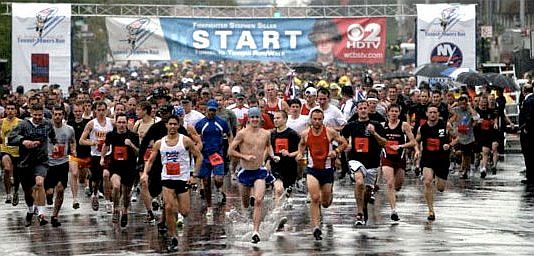 An estimated 25,000 people participated in the 13th annual Tunnel to Towers run on Sept. 28 in honor of Stephen Siller, the firefighter who gave his life on 9/11. The 5K journey starts from the Brooklyn Battery Tunnel, straight to the Freedom Tower, where the World Trade Center once stood.
Siller was in Brooklyn when the first plane struck the north tower. His squad wasn't able to go through the Battery Tunnel so he abandoned his truck, running toward the chaos and destruction of 9/11. After running three and half miles, he persisted to help the victims escape the warring Trade Center. Records show that he saved countless lives and if it wasn't for his sacrifice, they wouldn't be alive today. Siller was in the South Tower when it collapsed.
Every year, thousands of people honor the memory of Siller by following his footsteps. During the run, participants wore a firefighter jacket and even chants of "U-S-A" echo through the Battery Tunnel. "This run is the most motivational thing I have ever participated in," says Mellissa Gavin who has participated in over three different marathons. Darren Diaz, an active runner, adds, "I cannot begin to imagine what Stephen Siller saw running out of the tunnel on 9/11, the chaos must have been strikingly horrific."
The Tunnel to Towers run is held every year on the last Sunday in September. The experience includes a motivational run, access to the World Trade Center memorial, food, and entertainment all in honor of one man who made the ultimate sacrifice.