NYE Cleanup in New York City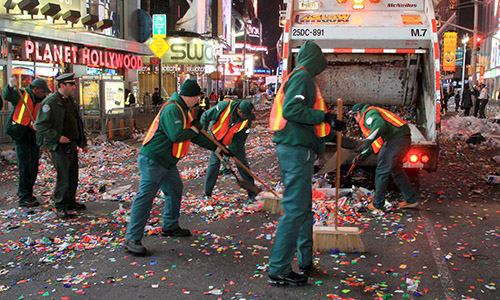 New Year's Eve in New York City is one of the best parties of the year according to some, but the New York Sanitation Department has different opinions. Entering the new year, sanitation workers in NYC were faced with an estimated 56 tons of debris to clean up after the clock struck midnight. By the first sunrise of 2019, every single piece of confetti had to be picked up and streets cleaned spotless as if the celebration never even happened.
G. Keith Still, a crowd science professor, estimated a turnout of approximately 100,000 people packed into the streets of Times Square to see the ball drop. With approximately 1 million people walking around New York City at the time of the ball drop as well, according to the Long Island Business News, the immense pile-up of garbage was inevitable.
Angel Vega, retired sanitation worker, stated "The confetti is the worst. The harder you try to pick it up, the more it slips away. But we have the equipment and the know-how to get it done." Vega had been on the job for 20 years, so he's used to the mess the new year brings. He said more there are more than 250 sanitation workers on the clock using roughly 140 pieces of equipment to make their city spotless. Confetti contributes to the majority of the mess as 3,000 pounds are dropped in Times Square, spraying approximately 30 million pieces of the small colored paper across the city.
Shannon Sofield, a New York City resident, wrote on a blog, "One cool thing to do on NYE, if you are up is to go to Times Square at 3 a.m. or 4 a.m.. It is completely empty except for the clean up crews. Amazing to see all of the "stuff" strewn about and a random crazy or two as well as a lost tourist."
Most others who live in the area regard the seeing the ball drop in person as either "not worth it," or "an experience you only need to do once," as the overwhelming crowds, garbage, and temperatures outshine the minute of celebration that occurs at the turn of the new year. The crowds in the city gradually turn from people to garbage as time passes.