Harry Styles Drops His Third Album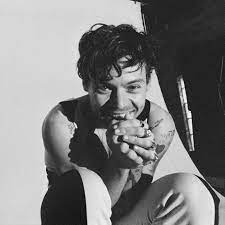 On Friday, May 20, Harry Styles dropped his third album "Harry's House". The singer's third album has been long-awaited by fans for years, as the last release by Styles was the "Fine Line" album in 2019. "As It Was", the first single released from this album, dropped on March 31, 2022, and fans have been eagerly looking forward to the album since. Friday was a busy day for Styles as he not only dropped the album, but  also held a one-night-only concert, held a listening party at 12 am as the album was released, and put up pop-up shops all around the world with merchandise and photo-opportunities. 
The album itself is a whimsical flurry of emotions, artfully arranged in a way that leaves the listener in tears at one song and laughing at the next. The album's opening song "Music For a Sushi Restaurant" is the perfect opening song, and a great track to add to your summer playlists. The upbeat, fun tempo and silly lyrics leave the listener thinking about Japanese cuisine and colorful summer scenes: "You're sweet ice cream" and "Blue bubblegum twisted 'round your tongue." 
Some transitions between songs can give the listener having feelings akin to whiplash, showcasing how easily Styles portrays drastically different feelings while keeping the listener engaged. "Matilda" is an emotional song about it being okay to grow away from those who raised you, and that those who are supposed to love you the most (family, parents, etc.) might not, and it's okay to want more for yourself. Styles crows about making your own family and creating your own love. The song is slow and almost nostalgic, with references to pop culture: the 1996 film Matilda. The next song, "Cinema" is a completely different vibe, with a beat more suitable to the mainstream radio and lyrics portraying fewer emotional topics than "Matilda", as it is mostly about Styles' introduction into the movie-making business.
"Harry's House" features other interesting social topics, including feminism. The song "Boyfriends" discusses how boyfriends are, in general, underappreciating and that we all deserve better. Lyrics like "boyfriends, they think you're so easy…they take you for granted" and "boyfriends, are they just pretending? They don't tell you when it's ending." help portray the message that Styles thinks all his fans should want the best for themselves when it comes to romantic relationships. At Coachella 2022, Styles gave fans a sneak peek of this song, and he introduced it by saying, "To boyfriends everywhere, — you."
Other songs throughout the album have interesting aspects, including the last song of the album "Love of My Life" that includes a piano riff for its outro, tying up the album wonderfully. Styles' new album did not disappoint, and it's the perfect summer album for road trips, beach days, and pool-side hangouts.