Should Cell Phones be allowed in School?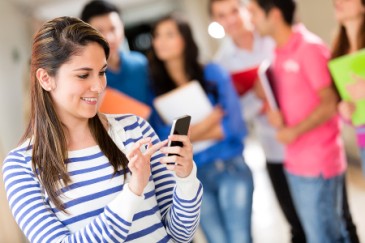 Hang on for a minute...we're trying to find some more stories you might like.
A controversial topic in many schools, especially in high schools, should students be allowed to use cell phones in school? Fifty-eight percent of schools in the country ban cell phones in school entirely.
Students argue that cell phones are part of their generation that they grew up using technology. Many high schools use computers so what's the difference between that and a cell phone?
Many teachers feel that cell phones are a distraction.
Peter Bregman wrote in the Harvard Business Review Blog Network that cell phones cause a distraction. He also said that they reduce productivity by 40%, increase stress, and can possibly reduce IQ by 10 points.
"Schools eliminating cell phones think that by taking away this distraction, students will actually pay attention in class. This is not always true," Junior Trinity Day said, "Students can always find new and innovative ways to stay away from doing work."

"[I think] schools are probably banning cell phone use due to students having access to social media on their phones if they are allowed to use them." Junior Nick LaRosa says.
In our school especially students are always finding ways to distract themselves from class. Whether it is through video games, emailing or doing whatever teachers catch students doing on their laptops. Although most teachers are opposed to allowing students to use cell phones in class, few are supportive of the idea.

"The problem is students have a problem self-monitoring themselves," Signora Iaccarino, an Italian teacher here at SJV, said. "If cell phone usage was allowed I would not be opposed to students checking messages." She went on to explain,  "The thing is that students have trouble just checking, I occasionally walk to my bag and check my messages but I don't stop working to do that."

"I do believe that cell phones can be a distraction but can also an asset in the classroom. Having a cell phone with internet connection, the distractions are limitless. Students can be texting friends, scrolling through instagram, or tweeting. Then again, our tablets can also be a distraction during class, yet they are allowed." Day said.

Teenagers of this generation often say that cell phones have become part of their daily life. Most teens use their phones at least 150 times per day. A study by Pew showed that 54% of all teens use text messaging to communicate with friends. As opposed to talking face-to-face with friends which according to the same study is how only 33% of all teens communicate with their friends. The average teen between the ages of 13-17 sends and receives approximately 55 texts per day. That's around 1650 texts per month. But just how often do students text in class?

Pew asked approximately 800 students from all over the country if they could have cell phones in school. Only 12% of students said they can have their phones in class anytime. As for the rest of them, 62% of the students surveyed said they were allowed to have their cell phones in school, but could not use them in class. Of the students that attend a school that bans cell phone usage on campus, 58% of them say they have sent a text message during their class period. So why have a rule that students are going to break anyway? 
"Do teenagers ever really listen to the rules?" Briana Bowers says. 
"I believe students still text in class because they do not care about the rules," said Jamie Galyas "They [students] think at certain times during the day like at lunch or an easy class they can just go on it without getting caught. In part, the no cell phones rule does not really prevent anything as there are so many people with cell phones out right now and teachers have no idea."

Not only are teens using cell phones to communicate, but they use cell phones to access internet. One in every four teenagers are "cell-mostly" internet users. This means that these teenagers are not only on their phone for communication purposes, but also for social media, research for school or any other kind of research, watching videos, or access to anything through the internet.

So do cell phones belong in schools? "I think schools are banning the usage of cell phones in school because of the distractions they create. Whether we like it or not, we're here to learn. Some people are capable of knowing when it's time to put the phone down and focus on their work, but many don't. Some people just like to test their luck until they run out and that's why there are so many restrictions." said Bowers.

Of course cell phones are not a negative thing, they can be used for instant access to anything. They also offer parents the ability to stay in touch with their child. Then again, they are there for the distraction element. If schools don't allow students to use cell phones in class, there is still no guarantee that they will be paying full attention to their teacher and/or school work.