Brendan Squiteri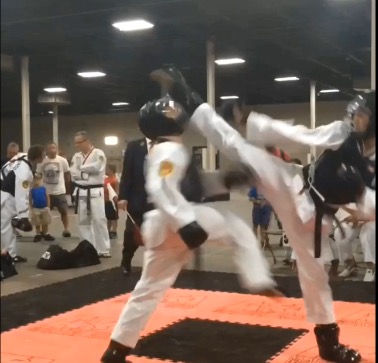 What do you do inside of school, what activities are you involved in?
I'm in Key Club and FBLA. [Future Business Leaders of America]
What activities do participate outside of school?
Outside of school I'm a karate instructor, I've been an instructor for four years now. I work five days a week.
What's your favorite part about SJV?
I think the variety of classes it has to offer!
What's your most memorable moment you've at at SJV?
Probably beating CBA freshman year in volleyball… And getting student of the month!
How long have you been doing karate?
I've been doing karate since I was three, so that's fourteen years
How did you begin doing karate?
My dad made me try out for class when I was three. I didn't really wanna go at first, when I actually got there I loved it!
What belt are you?
I'm  a third degree black belt.
Why do you like karate so much?
Well, it builds self confidence, it build leadership qualities, it builds discipline, and it's great way to learn self defense.
Do you have a life goal or do you aspire to be anything?
I guess my life goal is to be the best I can be… and to just be successful.
Do you have a dream job? If you could do anything in the entire world what would you do?
I would love to be a music producer!
Is there any reason why?
I just love music.
Do you have a dream college?
I would love to go to Princeton, but that's… a reach. *Laughs*
What's your favorite class you've ever taken at SJV?
I love journalism because I have the freedom to write, and I like writing.