Mr. Deroba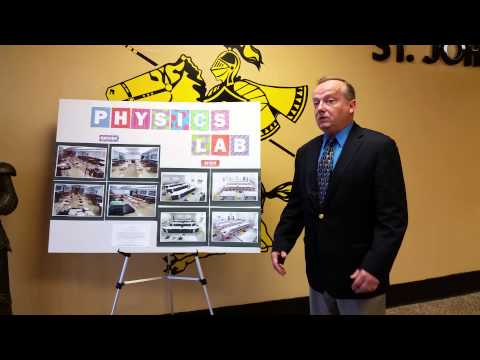 Mr. Deroba has been a fixture at SJV for 33 years. Currently, he holds the position of President of SJV (the first ever), but what does his job entail? Besides being the official head of our school, Deroba mainly focuses on the strategic planning. These plans have multiple tactics and initiatives, and he is always working on them. Deroba also plans what the future of our school is going to look like years down the road.
"I'd love to have a giant glass wall divide the library in half…  I want the glass wall to be a monitor. A computer screen when you want it to be one, and you can write on it like a blackboard… I'd love to have LED lighting throughout this whole school; it would change everything. The way you see it, feel it, it would just be a more warm inviting place."
Before becoming our President, Deroba's first job out of Lebanon Valley College was a tree trimmer. In a few short months, he finally put his Biology degree to use and began teaching at a private school in Deal, NJ. Later, he taught for nine years in the public school district and simultaneously completed his graduate work at Trenton College (now TCNJ) and New Jersey City University.
In 1985, Deroba came to Saint John Vianney and filled the position of assistant principal. After only one year, he was promoted to the first lay principal of a New Jersey Catholic High School. He has been at our school ever since.
Deroba grew up in a coal mining town, Trevorton, Pennsylvania. Tragedy struck his family in 1964, when his father was killed in a coal mining explosion. He explained he was poor, but his family didn't realize it.
"We didn't have an indoor bathroom until I was a freshman in high school. We got a telephone and indoor bathroom in the same year, it was 1967. But I had no idea [that I was poor], I had everything I needed. I had a baseball glove, I had a pair of sneakers, I had a bicycle. I was happy."
Mr. Deroba's three-plus decades at SJV have been filled with many memories, but when asked his favorite, it took awhile for him to pick a specific one. He chose a Lady Lancers' basketball game in the early 90's. The girls were losing by 2 points to Notre Dame High School with .9 seconds left on the clock. Notre Dame lost possession of the ball, and it was now ours. Mr. Bulman, the head coach at the time, put in a softball player to throw a hard pass inbound, to Sarah Coleman at the point line. Coleman caught the ball and shot it in the basket in one motion.
"Swish! 3 points! We win! Very memorable. I'll never forget that. I almost fell out the stands and hurt myself!" he said laughing.
When Deroba is not working hard for our school, he enjoys woodworking, especially making furniture for his home. He also enjoys hiking, trout fishing, and hunting. He went on to explain that he loves anything outdoors.
Many students also notice that Deroba is always carrying around a cup of coffee. He said that his favorite coffee is Dunkin Donuts, either directly from the store or make it at home. He even confessed that sometimes even when it's in a DD styrofoam cup – it's from home.
"I don't even throw styrofoam cups away, I wash them out and use them again. I think it's part of my upbringing, my mom use to say 'waste not want not' so I hardly ever throw away anything."

Deroba also seems to be the only person who knows the tale of "the house".  Our whole student body is curious as to how that building came to be part of our school. Deroba explained that it's always been there, and the house was owned by a couple named Mr. and Mrs. Warnock. The land was previously a peach orchard, and the Warnock's sold the land that SJV and Saint Benedict's sits on to the Dioceses of Trenton in the 50's. The couple kept one acre of land to live on, and this is where the house sat.
By the mid-90's, Mr. Warnock passed away, and Mrs. Warnock was getting older. It was getting difficult for her to walk, so she had to move her mailbox from the street to right outside the door. At the same time this happened, the town of Holmdel noticed that SJV and Mrs. Warnock's house had the same address, 540 Line Road. This was when SJV became 540A. The new mailman refused to deliver mail to the house because the mailbox wasn't on the street, and this resulted in a student or Mr. Deroba bringing the mail to Mrs. Warnock every day. Mr. Deroba and her formed a friendship. Mrs. Warnock loved SJV with all her heart and wanted her house to be a part of the school. When she became too elderly to live on her own, SJV took care of her.
"SJV, with permission and assistance from the Diocese of Trenton, purchased the house and this aided Mrs. Warnock to move to an assisted living facility."

Thank you Mr. Deroba on behalf of our student body for all of your hard work and everything you do to make Saint John Vianney the great place it is.