Katie DiFrancesco: From Millstone to Princeton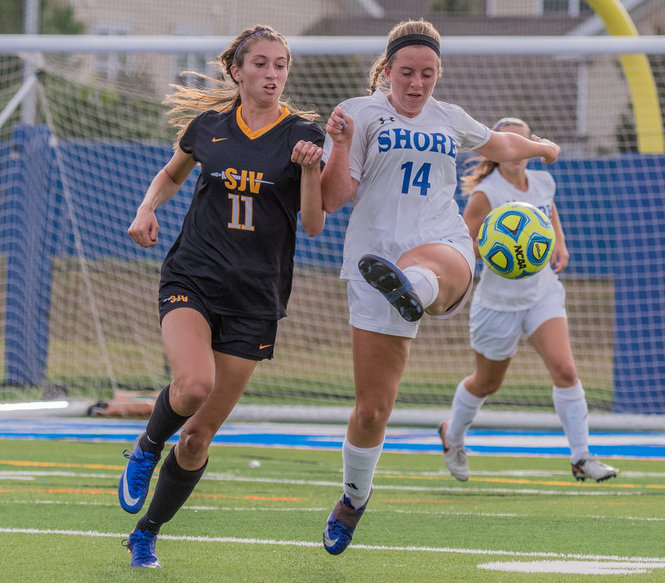 Born at 10:19 p.m. on 10/19, Kathryn DiFrancesco has been special since birth. The daughter of an Italian soccer star, DiFrancesco picked up the sport right away. She played in the Millstone Township REC soccer league until she was old enough to play travel. When she was in third grade, the Millstone Cyclones soccer team formed. The travel team moved up the ranks within the state, with Katie "Crazy Legs" DiFrancesco as one of the fastest players. After six years, the team dismantled. Unlike the majority of her teammates—even the majority of her classmates—DiFrancesco headed to Saint John Vianney High School, where she would make her name known.
In the fall of 2013, DiFrancesco laced up her cleats and hit SJV's soccer field. DiFrancesco received recognition at the junior varsity level, and found her way to the varsity team by the end of her freshman year season. In the spring season, DiFrancesco decided to run track, as she did in middle school. DiFrancesco was a big asset to Lancer's track; she ran the 100m, 200m, 400m, and 4×100 relay.
In her sophomore year, DiFrancesco took it up a notch and became a three-sport varsity athlete. She was a starter on the soccer team, and she took the track world by storm in both the indoor and outdoor seasons. DiFrancesco became a NJSIAA Non-Public A Indoor State Champion with a time of 7.39 in the 55 meter dash. She continued her momentum in the spring season by almost becoming a state champion again in the 100 meters with a time of 12.68.
Junior year was crucial for DiFrancesco as this year is seen as the prime time of college recruitment for track. In her indoor season, DiFrancesco broke her personal records in the 200m, 300m and 400m. In the spring, DiFrancesco hit the nail on the head and broke her personal records in the 100m, 200m and 400m. Once again, she was crowned champion when she crossed the finish line. DiFrancesco became NJSIAA Non-Public A State Champion with a time of 24.70 in the 200 meters.
For the fall of her senior year, DiFrancesco took her time looking at colleges and universities she could potentially commit to. During the Lady Lancers' best soccer season in her four years at SJV, DiFrancesco underwent the stress of being in season, and taking official visits at the same time. After her official visit to Princeton University, DiFrancesco decided that was the school for her. This past month, she verbally committed to run track at Princeton University
Big things are to come for DiFrancesco in the upcoming winter and spring track season. Training for the indoor season began in late November. When asked about both the indoor and outdoor season, DiFrancesco commented, "I'm very enthusiastic about starting my last two high school seasons of track. It's been a lot of hard work over the years. Now that it's senior year, a lot of pressure is gone, especially college pressure. I'm excited to see what I can do without being so nervous all the time, and just have fun with it!"
When the two seasons come to a close, DiFrancesco will leave a legacy not only in the track and soccer programs, but as an honors student who finished amongst the top in her class. DiFrancesco is the President of the Class of 2017, Homecoming Queen, and two year captain of both the soccer team and track team. Fellow classmate Ashlyn Cooper noted, "She [DiFrancesco] is a cheerful spirit; she always makes me smile. She cares so much about her academics and her friends. She's definitely someone you want in your corner." English teacher Mrs. Schmidt has had the pleasure of working with DiFrancesco as a class officer and said, "Katie has an incredible drive, and I know she will go on to accomplish great things." Teachers, friends, and peers all acknowledge that DiFrancesco has a special charm that will take her far in life.
From Millstone to Princeton, Katie DiFrancesco has left a legacy no one could have predicted.